The automobile featured in this article is the 1958 Ford Two Door Ranch Wagon. This particular vehicle is in great shape and looks real good. You don't see these restored Ford Ranch Wagons everyday and they are fairly rare at car shows.
Ford Motor Company Station Wagons
When we talk about 1950's automobiles we tend to to look at the coolest looking vehicles. Much of this is probably the fact that 1950's designs were quite different than anything before them. The story of the tail fins with the latter 1950's models is a good example.
When it comes to station wagons the primary goal was to make a vehicle that could transport perhaps six to eight passengers. Style was important and the automakers did their best to carry over design changes as much as possible.
Ford Motor has a long background in the station wagon market. The first was the 1929 Ford Wagon. The first wagon that Ford built that was totally in-house was a 1937 model. These were wood trimmed mostly commercial vehicles. By the 1950's Ford reverted to the all steel body for their wagons, the last with any real wood ended in 1952. After that model year Ford Motor Company still produced wagons that had a simulated wood trim using exterior wood decals which were actually still framed with genuine wood. This stopped however in 1953.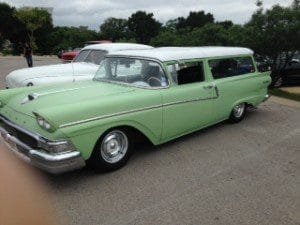 Ford Ranch Wagon Long Production Run
Ford Motor Company produced the Ranch Wagon from 1952 to 1974. A very impressive twenty-two year run. During this production run the Ford Ranch Wagon was a full size vehicle with the exception of 1963 and 64 where it was an intermediate model. Whwen changes were made with 1952 Ford wood wagons two new wagon models were introduced. These were the Country Sedan, a four-door model in the mid-range Customline series; and the Ranch Wagon. After receiving cosmetic changes for 1953, a second Ranch Wagon model, a fancier version in the Customline series, was added for the 1954 model year.
Standard equipment on all Ranch Wagons included a one-hand, easy-opening tailgate that was a full foot wider than anything produced by the competition. Also, 97 cubic feet of luggage area with the rear seats folded, providing a luggage area that was about 101/2 feet long with the tailgate down, and was 62.8 inches wide at its widest point inside. Deluxe interior included standard foam padding for the front bench seat, along with vinyl and woven plastic upholstery.
In the late 1950s, Ford Motor Company completely restyled its lineup to compete with the offerings from General Motors.
For the 1957 and 1958 model year Ford Motor also offered the Del Rio Ranch Wagon. Buyers of the Del Rio wagon had the option of a two tone paint scheme, four way power seats and a better quality interior. The Del Rio also had the two piece tailgate which was utilized on all Ford wagons. The Del Rio was a sports wagon but was discontinued after 1958 with only a bit over 12,000 units sold.
The 1959 model year for Ford Station Wagons saw the nine-passenger Country Squire  rated above the six- or nine-passenger, four-door Country Sedan wagons and the six-passenger, two-door Country Sedan wagon and two- or four-door Ranch Wagons.
1958 Ford Two Door Ranch Wagon Specifications
The 1958 Ford Two Door Ranch Wagon was available with either a 223 Inline Six or a 331 cubic inch V-8. The six delivered 140 horsepower and the V-8 produced 240.
Brakes are four wheel hydraulic drum.
Front suspension has independent coil springs and the rear are longitudinal leaf springs.
Vehicle dimensions include a wheelbase of 118.0 inches...overall length of 202.7 inches...width of 78.0 inches...height of 58.6 inches.
Regarding production numbers for 1958 Ford Wagons, total station wagon production totaled 184,600 vehicles. Out of that amount, 34,575 were two door Ranch Wagons and 32,850 were four door Ranch Wagons. The highest production wagon was the Country Squire four door at 68,750 units.
For those wanting to decode 1958 Ford automobiles, the following website is very helpful for decoding that years serial numbers....http://www.theclassicford.com/1958_Ford_ID_numbers.htm
Check out these additional Auto Museum Online articles...
The 1955 Chevrolet Nomad Wagon
1964 AMC Rambler Ambassador Wagon
Ford Ranch Wagon Collector Vehicles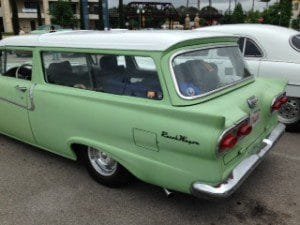 Station wagons are generally not hot topics within the car collector community. On the flip side, if you're fortunate enough to come across a late 1950's Ford Wagon in reasonably good condition it might be a good buy. You may be able to find a good buy in the teens and certainly under $20,000 for an unrestored model.
As always, the price will and should reflect condition and mileage plus originality. If the wagon has been fully restored you could be looking at anywhere from $40,000 plus to the $80,000 range.
(Article and photos copyright Auto Museum Online)