The car featured in this article is a 1955 Oldsmobile Rocket 88. This as an Oldsmobile full size car offering. You may even have heard the 1950's slogan " Make a Date with a Rocket 88"
The entire Oldsmobile line was redesigned starting a year earlier with the 1954 model year. In 1954 the first thing you would have notice was a lower and longer body shell with wrap around windows on the front and rear.
One cosmetic change was the availability of eighteen different colors and eighteen different two-tone combinations. When you view some of the restored models today, it's amazing how a smart two-tone paint combination can add class to a vehicle. The chrome Rocket 88 badge on the car's panel didn't look bad either.
The Oldsmobile Rocket 88
The Oldsmobile 88 was a model sold for fifty years from 1949 to 1999. Oldsmobile claimed that their 1949 model was  the beginning of futuristic design, which was proved to be fairly accurate.
The name "Rocket 88" was more of a marketing term than a model itself. Another catchy marketing name was Oldsmobile's "Golden Rocket 88". The official model would have been the Oldsmobile 88. The 1954 through 1956 Olds 88 models were the best combination of styling, engineering and performance to date for Oldsmobile. The Oldsmobile Super 88 model was a more luxurious version of the 88 model that first came out in 1951.
The Oldsmobile Rocket V-8 engines were to some degree another brand name for an older Olds engine. The difference was that their performance was enhanced with a new design.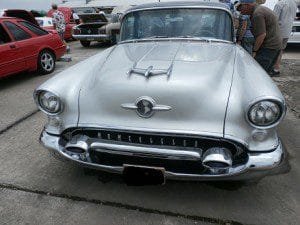 Olds Rocket 88 V-8 Engine
The Rocket V-8, engineered by Charles Kettering, came out in 1949 with an overhead  valve design and hydraulic lifters and was designed for performance or at least was named to further that image. Rocket V-8 performance however certainly did compete well against Cadillac.
Charles Kettering is considered to have been one of the best automotive engineers ever. Kettering held well over one hundred patents and is credited with developing the electronic ignition system, automobile lighting systems and many other innovations. Kettering became extremely wealthy from his patents and is noted for his philanthropic contributions including the Memorial Sloan-Kettering Cancer Center which helped to found in 1945.
During the model years 1954 through 1956 the standard Oldsmobile V-8 was 324 cubic inches delivering 195 hp. The Olds 324 was also used with GMC trucks.
The Olds Rocket 88 engine went through modifications during the 1950's For the 1955 model year Oldsmobile increased the compression ratio which helped put out 185 horsepower for the Olds 88 model. The engine built in the 1955 Super 88 and 98 models delivered 295 horsepower.
See these additional Auto Museum Online articles on the links below...
Car VIN and Serial Numbers / What Tthey Tell Us
1956 Olds Rocket 88 Convertible
1955 Oldsmobile 88 Specifications
As mentioned above, the base engine for the 1955 Oldsmobile 88 was a 324 cubic inch V-8. The engine was referred to as the bigger bore Rocket 88 and put out 195 horsepower.
Brakes were four wheel hydraulic drum. Standard transmission was a three speed manual. Options included a Hydra-Matic automatic.
Front suspension were independent coil springs with rear being a longitudinal leaf spring.
Car dimensions included a wheelbase of 122.0 inches, an overall length of 203.3 inches, a width of 77.8 inches, a height of 62.2 inches and a weight averaging about 3,760 lbs. The Olds 98 models weighed more.
You may also enjoy the Auto Museum Online articles on the links below...
The 1955 Oldsmobile Collector Car
As mentioned above, the 1955 Oldsmobile 88 was in a series of Olds cars that were probably the best built and best looking to date. These American classics have excellent collector interest and the models you may come across in show or museum like condition will have high valuations.
Non show quality cars will of course have a wide range of values due to condition but we have seen several, as of this writing, in the $8,000 to $20,000 range.
These could be daily drivers without mechanical issues. Lower prices would apply to non-restored vehicles. More restoration and newer restoration will mean higher valuation.
Show car condition 1955 Oldsmobile 88's, as of this date, can be seen in the mid to high $30,000 range.
(Article and photos copyright 2015 Auto Museum Online)