The automobile featured in this article is a superbly restored 1930 Ford Model A Cabriolet. The detailed restoration along with the rumble seat on this vehicle makes the car look fantastic.

The New and Improved Ford Model A
The Ford Model A's took the place of the famous Model T's. Model T's had been around for quite some time and during the early 1920's sales began to decline. More competition was entering the picture. Even with these competitive issues it took a good deal of persuasion to talk Henry Ford into coming out with a new car model. This was a characteristic of the old automaker. Ford had a habit of not wanting to tinker with what he thought was a good car. Competitive pressures made Ford agree to changes that he didn't feel were necessary. A good example were the Ford brake systems that remained mechanical for a period after General Motors introduced their hydraulic braking system.
The Ford Model A's were designed by both Henry Ford and Edsel Ford. The Ford Model A was produced from 1929 through 1931. Ford used the body designations 68A, 68B and 68C. The Briggs Body Company built all of the Cabriolet bodies for Ford. The Cabriolet is a convertible with glass side windows, unlike the canvas side curtains found on many other roadster models.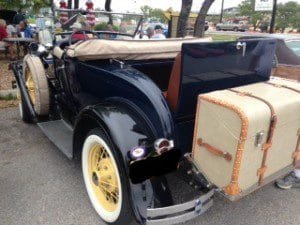 The Ford Model A was offered in many different styles. These included a coupe, sports coupe, roadster, cabriolet, towncar, fordor, truck, station wagon and taxicab. All of the various Model A's acquired a reputation as being ruggedly built.
1930 Ford Model A Cabriolet Specifications
The 1930 Ford Model A came with a four cylinder 205 cubic inch 3.3 liter engine delivering 40 HP. The 1930 Model A's engine produced twice the power of previous Model A engines. Top speed was estimated at 65 to 70 MPH.
The wheelbase was 103.5 inches. The car's transmission was a three speed manual.
Brakes were four wheel mechanical. This was a significant change from the old Model T days when those automobiles had only two wheel brakes.

Seating capacity was 5.
Vehicle weight was between 2,155 and 2,495 pounds. New vehicle price ranged from $450 to $650 which reflected the slow economy that year.
Among the changes from 1929 to 1930 were wider fenders, elimination of the cowl stanchion and a deeper radiator shell.  Options available for 1930 included an external sun-visor, a rear luggage rack, a spare tire lock and for a bit of better safety a rear-view mirror.
See these additional Auto Museum Online articles on the links below...
Antique and Classic Car VIN's and Serial Numbers
1948 Buick Custom Super Sedanette
Ford Model A Cabriolet Collector Values
The 1930 Ford Model A Cabriolet will take you back to the Golden days of American automotive history. The 1930 Model A Cabriolet is a unique automobile. For years the Ford Model A was one of the most popular collector cars out there. Two reasons the Model A's retained their popularity was that they were quite advanced over the previous Model T's and not nearly as many of them were produced.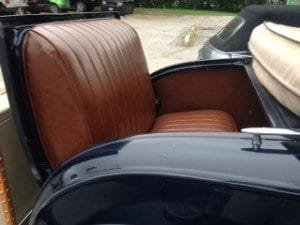 Total Ford production for the 1930 model year is estimated at 1,261,053 vehicles.
The Cabriolet model is considered more valuable mainly because of lower production numbers. Only 25,068 Cabriolets were built for 1930. Compare this to the 1930 Model A Roadster of which 112,901 units were built.
As of this writing, fully restored 1930 Ford Model A Cabriolets have been offered for sale in a range from about $30,000 to about $40,000.
Several other 1930 Ford Model A body styles are generally priced less such as the Coupe. Many feel that the Ford Model A's in general are some of the best values among vintage collector cars. In addition to the reasonable prices there are many different body styles to choose from. Ford Model A parts are typically not hard to locate and there are many reproduction parts available.
The Ford Model A Cabriolet Club
For owners and/or enthusiasts of Ford Model A Cabriolets there is a club called The Model A Ford Cabriolet Club. This is a special interest group of the Model A Ford Club of America (MAFCA) and of the Model A Restorers Club (MARC). For more information see their website...http://clubs.hemmings.com/modelacabriolet/about_us.html
References include...Complete Book of Collectible Cars...Ford Model A Instruction Book...The Amazing Story of Henry Ford by authors Henry Ford and James Martin Miller.
(Article and photos copyright 2015 Auto Museum Online)