Ford Thunderbirds have long been know as America's Luxury Cars. The 1966 Ford Thunderbird Convertible featured in this article was part of the fourth generation models that began with the 1964 car.
This new generation of Thunderbirds of course had new styling. The cars had squarer lines and sold well. Convertibles during this generation made up a lower proportion of total production.
The 1964 models also had plenty of other new items. 1964 was the first year for transistorized ignition, "Highway Pilot" speed control and the Silent-Flow through ventilation system. The ventilation system was for hardtops and landaus only. The Safety Convenience Control Panel was also new to the fourth generation Thunderbirds. This included a low fuel warning light, door ajar light, four-way emergency flashers and a second toggle switch to activate a vacuum operated door-lock system. Fourth generation Thunderbirds had these safety and convenience items as standard equipment.
Thunderbird Models for 1966
There were four styles offered in 1966. Thunderbird choices included a Conventional Hardtop, Town Hardtop, Town Landau and Convertible.
The Landau's were offered as a dealer installed option beginning in 1964. There was no Roadster offered that year. The Landau did give the buyer that 1950's two seat sports car feel.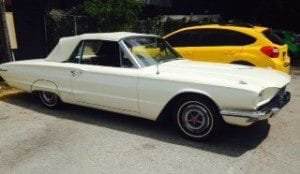 The full rear tail lights on the 66 model debuted in 1964. Power steering and brakes were standard for the 66 model.
1966 Ford Thunderbird production totals came in at 69,170 units.
1966 Ford Thunderbird Specifications
There were three engines available for the 1966 Ford Thunderbird. These engines included a Thunderbird 390 Special V-8 with a four barrel carburetor.  This engine was rated at 315 HP.
Another was a standard 390 cubic inch V-8 that was rated at 265 HP. The third engine option was a Thunderbird 428 cubic inch V-8 that delivered 345 HP.
Transmissions used in the 66 Thunderbird was a three speed automatic. During the 1966 model run there were two different transmissions used. The first was a Cruise-O-Matic that was used only on the 390 engines and was discontinued in November 65. The other transmission was called the C6 Dual Range Automatic and was used with the 428's and used exclusively put in the Thunderbirds beginning in November 65.
The 1966 Ford Thunderbird had front disc brakes as standard.
Suspension included Helical Coil Springs with hydraulic shock absorbers. Rear suspension was comprised of Longitudinal Semi elliptic Leaf Springs.
Dimensions included a 113.0 inch wheelbase and an overall length of 205.4 inches. Width was 77.3 inches and height varied by exact model. Height ranged from 52.5 to 52.7 inches.
See additional Auto Museum Online articles on the links below...
The New Sporty 1955 Ford Thunderbird
The 1959 Ford Fairlane 500 Skyliner Retractable Hardtop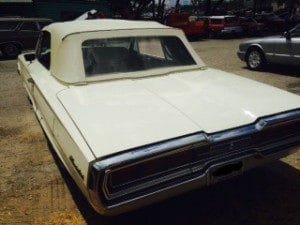 Ford Thunderbird Collector Cars and Values
The Ford Thunderbird was one of the longest running models in Ford history. The automobile was originally designed to compete against Chevy's new Corvette. Both cars would also compete against the foreign sport car imports of the 50's. The Thunderbird however differed from the Corvette in several respects. The car was first marketed as a personal luxury vehicle possessing more creature comforts than the Corvette.
The Ford Thunderbird went from an original two-seater to a four seater and at one time had a design that made it appear as a mid size car. Highest collector values today of course go back to the first generation beginning in 1955.
When you see a 55 T-Bird on the road today it most likely will be immaculately restored and at an auto show or meet. These pristine first generation Thunderbirds as of today have average values of $40,000 to $70,000 depending on degree of restoration. These figures are from recent price guides.
The second and third generation (58-63) values drop to an average range of $25,000 to $35,000. Fourth generation T-Birds of which the 1966 model shown in this article is a part of appear to have top tier valuations in a range of $15,000 to $35,000 with the Convertible model usually with the higher price. After that year the redesigned Thunderbird values drop precipitously until the model was discontinued in 1997.
Ford brought back the Thunderbird beginning in 2002 for a a four year run. Those models were all two-seaters with Convertible and Removable Hardtops and sold new in the range of $38,000 to $42,000. Today's average top values are in the range of $18,000 to $24,000.
Reference material included Ford Motor Company Archives...The Book of the Ford Thunderbird from 1954 by Brian Long...1966 Ford Thunderbird Handbook.
(Article and photos copyright 2015 Auto Museum Online)