The Plymouth Prowler, later the Chrysler Prowler, is a retro-styled production car manufactured and marketed in 1997 and 1999-2002 by Daimler Chrysler. When the Prowler was first released, the collective reaction from car buffs was a loud, "OMG". Certainly the car looked different than just about any other production car on the market and it was a real head turner with it's hot rod styling.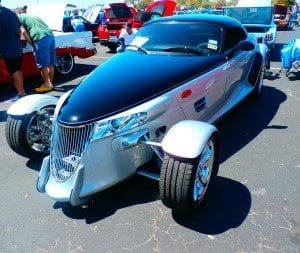 A 1993 Concept Car
The Prowler was first introduced in January 1993 at the North American International Auto Show in Detroit, Michigan. The cars stunning design caught peoples attention from the start.
Just two months later the Prowler made an appearance at the Goodguys Spring Nationals hot rod show in Pomona, CA. to much acclaim. One month after that, dealers from around the country gave the car a thumbs up and talked about production feasibility. This was followed by engineering work in early 1994, test driving in 1995 and extended cross country road trip tests in 1996. Full production approval came in March 1997.
Following is the story of the Plymouth/Chrysler Prowler and how it went from a concept car in 1993 to a production car in 1997, which in itself is quite a feat.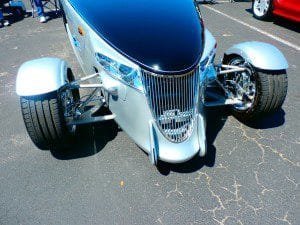 Engineering of the Prowler
Engineering work began in earnest in the spring of 1994. At this time computers were the method to really get out some creative and different types of styles. At the same time this allowed for designing without breaking the bank on developmental expenses. The Prowler was one such computer designed concept. Many will say that the Prowler design followed quite closely to a retro-roadster design by Chip Foose.
The Prowler looked like a futuristic speedster with an open-wheel front end and low-slung hot rod body. Chrysler however did not produce the vehicle as a hot rod. To help keep costs down Chrysler used it's standard 3.5-liter V6 as the Prowler's power plant. The engine did deliver a healthy 250 hp. While looking like a hot rod, the Prowler didn't even have a manual transmission, which made it almost impossible to lay down hot rubber on the road.
A Name Change and More

In January 2001, the Plymouth brand was dropped from the Prowler name, and the hot rod looking vehicle became a Chrysler. As part of this change the company introduced a new "Mulholland Edition". This was a dark blue coupe with white pinstriping. Chrysler also offered two new paint schemes for the Prowler. A two-tone version (the top of the car will be black and the sides will be silver), called the "Black Tie Edition," came out. It also includes a silver instrument cluster bezel and silver floor mats. Later in 2001, Chrysler introduced a new color, Prowler Orange. Discontinued colors that year were red, yellow,purple and black. Silver was still offered.
2000 Plymouth / Chrysler Prowler Specifications
Over all the design is what makes the car. In fact, the Prowler may make you a celebrity in your neighborhood. This sports car will get you lots of looks. Performance is great for the the size and weight of the vehicle.
 3.5 liter V 6 front engine with 96 mm bore, 81 mm stroke, 9.9 compression ratio, overhead cam and four valves per cylinder
Uses Premium unleaded fuel
Fuel consumption: EPA city (mpg): 17 and highway (mpg): 23
Fuel economy EPA highway (mpg): 23 and EPA city (mpg): 17
Multi-point injection fuel system
12 gallon  premium unleaded fuel tank
Power: 250 HP
0 to 60 MPH in 5.9 seconds
Rated top speed of 126 MPH
Total production during the entire model run was 11,700 vehicles
See these additional Auto Museum Online / Muscle Car Journal articles on the links below...
The Morgan Superdry Special Edition
All Electric 68 Mustang / 0-60 in Under 3 Seconds
The Chrysler/Plymouth Prowler was certainly a creative design put out by Daimler-Chrysler. The automobile has many enthusiasts as demonstrated by the Prowler Owners Association and Prowler Club. See website http://prowleronline.com/
References included the 2000 and 2001 Chrysler Prowler Owners Manual Guide Book.
(Article and photos copyright Auto Museum Online)