Plymouth was created to be a more affordable line of automobiles for Chrysler. Plymouth would compete directly against Ford and Chevrolet. Affordability was a good thing during the Great Depression years and is exemplified by our 1935 Plymouth PJ Deluxe featured in this article.
The New 1935 Plymouth
The 1935 Plymouth was built new from the ground up. The 1935 models were completely re-engineered from the 1934 models. An example of this was that the engine was positioned more forward over the front axles. The passenger compartment was moved  further toward the rear increasing legroom and giving better weight distribution. The same X-frame was used but was improved.
There were two types of Plymouth automobiles for 1935. These were both PJ models but one was designated Business and one was Deluxe. The Deluxe line included a four-door sedan, a two-door and a four-door Touring Sedan and a Rumble seat Coupe. These were all built on a 113" wheelbase chassis.
As far as design is concerned, the 35 Plymouths started to have some streamlined looks losing some of the boxy look of it's predecessors. The front fenders had a pontoon look and curved downward. The rear fenders also had a more rounded look. Briggs supplied the bodies as they had in previous years.
1935 also saw a major change in how air flowed into the back passenger area. This included heat as well. Plymouth designers put a passage under the front seat which allowed ventilated air to get back there as well as warm air put out by the car's heater. This was a welcome improvement to those knowing how cold it could get in the rear passenger area.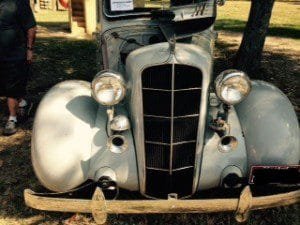 Plymouth Deluxe Vs. Ford Deluxe
Plymouth had some significant advantages over competitor Ford. This was nothing totally unexpected since Ford had the reputation of being slow on innovation. Many attribute this to Henry Ford's desire to keep things the same as much as possible. During the 1930's both General Motors and Chrysler made good inroads with potential Ford buyers.
Plymouth offered hydraulic brakes and Ford only offered mechanical. Plymouth had a tubular front axle and Ford an I-Beam. Plymouth offered manifold heat control and Ford did not. These are only a few comparisons.
The Deluxe and Business lines could be told apart by trim differences as well as interior appointments. As an example, wood grain dashboard and the ivory horn button was absent on the Business models. Regarding the exterior, all Plymouth Deluxe models had chrome plated brass headlights and taillights, chrome windshield frame and stainless hood rings.The Business models had lighter front and rear springs, different front shocks and no sway bar like the Deluxe.
Same Engine With Improvements
Engine re-engineering also took place. The same six cylinder power plant from 1934 was used but there were major changes. The block was redesigned to allow for more fuller cooling of the pistons, especially the rear ones. In addition, there were changes to the outside engine dimensions which occurred only in 1935. This meant that the 35 engine couldn't be placed in earlier models without some modifications.
Plymouth's Increasing Sales
Since 1930 Plymouth rose to third place in sales. In 1935 Plymouth found itself as the biggest low-priced car with hydraulic brakes, all steel body, new better weight distribution and better fuel economy. Plymouth's production for 1935  grew to over 350,000 units. About 250,000 vehicles were Deluxe models.
1935 Plymouth PJ Deluxe Specifications
As mentioned above, the engine in the 1935 Plymouth was the same six cylinder as in 1933 and 1934 models except with some improvements. This was a 201 cubic inch straight six delivering 82 HP.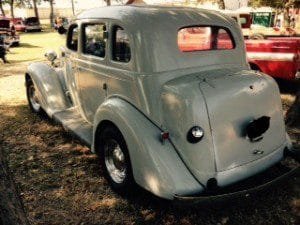 Transmission was a manual silent synchro type three speed.
The Plymouth Deluxe had four wheel hydraulic brakes and semi-elliptical leaf springs were used on front and rear suspension. Wheelbase was 113.0 inches.
Frame was a reinforced  X-Type.
See these additional Auto Museum Online articles on the links below...
The Very Rare 1936 Cord 810 Cabriolet
See This Restored 1934 Plymouth Business Coupe
Classic and Vintage Car Serial Numbers
A Beauty of a 1937 Imperial Airflow
Reference material and excellent books on this subject include…American Auto Legends by Michael Furman and Tracy Powell….and Art of the Classic Car by Peter Harholdt and Peter Bodensteiner.
1935 Plymouth PJ Collector Cars
All automobiles from this period are great collector cars. The 1935 Plymouths are milestone vehicles in as much as they were redesigned from the ground up. Their smooth lines and fresh contours set them apart. The engines for this model year also received major modifications.
The 1935 series were the last of the letter series Plymouth cars that started with the model "Q" in 1928.The 1935 Plymouth PJ was advertised as the biggest low priced car on the market that used about 20 percent less fuel than it's competitors.
As of this writing, the top valuations from various price guides for the 1935 Plymouth PJ Deluxe range from about $16,000 to $23,000. The convertible models have the highest valuations, ranging from about $25,000 to $39,000. The highest prices are those in mint restored condition.
(Article and photos copyright 2015 Auto Museum Online)