The 1972 Jaguar E Type Series III, manufactured by Jaguar Cars Ltd,  reminds one of the continuation of the sexy sports cars of the 1960's. One difference however is that the cars were hindered by the new emission standards and added safety equipment , including safety bumpers. The new powerful engine did quite a lot to make up for these mandated changes.
The Jaguar E-Types
The first E-Type Jaguar (XKE) came out for the 1961 model year. These new models replaced the XK-150's although they did share many of the styling and technical characteristics. Jaguar promoted the new E-Type car as the "Ultimate Cat" and stressed it's reduced engine noise and smoothness of the ride.
The Series I models were produced from 1961-1968. The second Series E-Types were built from 1968 - 1971. The Series III models were produced from 1971-75. All of these series Jaguars were very good looking sports cars with excellent performance. some might call them stunning. Over the span from 1961 to 1975 total Jaguar E-Type production was about 70,000 vehicles.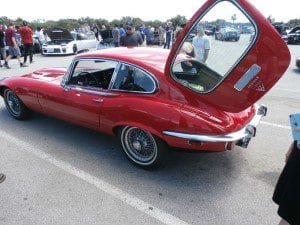 Series III XKE's
The 1972 Jaguar E-Type (XKE)  featured in this article was built with a V-12 engine that used plenty of gas but delivered great power. To accommodate the larger engine the wheelbase was expanded. The Jaguar V-12 engine first came out in 1971. The Series III was a much-revised model, larger hood bulge, longer wheelbase and wider tires, that was introduced in June 1971 with production running through  August 1973 for the Coupe model and to June 1974 for the Roadster.
Jaguar's V-12 Engine
The 1972 Jaguar 5.3 liter V-12 engine delivered 244 horsepower. This replaced the Inline Sixes.  The 0-60 MPH rating was 7.5 seconds. Looking back, it was a very popular engine during the 60's and 70's.
Several modifications had to be made for the car to accommodate the new V-12 engine. This included widening of the engine subframes along with a wider track. Also needed was a larger fuel tank and more powerful disc brakes. The engine itself weighed 680 lbs.
1972 Jaguar Type-E V-12 Specifications
As mentioned above, the automobile was built with a 5.3 liter V-12 engine. The engine had Quad 1.75-inch Stromberg carburetors.
Transmission was a four speed manual. It's noted that beginning in 1966, the 2+2 coupe models offered an automatic transmission.
Suspension was four wheel independent.
Brakes were four wheel servo assisted disc.
Dimensions for the 1972 Jaguar V-12 include a 104.7 inch wheelbase, an overall outside length of 184.4 inches, a width of 67.0 inches and a weight of 3,380 lbs.
The Jaguar XKE body was partially unitized...each panel functions both for appearance and support. E-Type construction utilized a multi-tube front end bolted to a steel bodyshell.
See the Auto Museum Online articles on the links below...
1957 Jaguar XK-140 and MC Performance Package
A Rare 1958 Jaguar XK-150 Roadster
Locations of Serial Numbers on Classic and Vintage Cars
Performance Parts & Accessories
Jaguar E-Type III Collector Cars
The first thing to recognize is that the right hand drives Jaguar E-Types are much rarer than the left hand drives. The reason was simply that about 85% of the cars were exported. There is no question that these E-Type Jaguars have great lines and are head turners. These sports cars are obviously popular with collectors and most models come with a strong price tag.
The Jaguar XKE Series III sports cars are known for their great styling and an all business cockpit plus excellent acceleration. Downsides might include a reputation of mechanical unreliability, expensive to repair plus gas guzzling. If one can afford some of the prices asked for these fine sports cars and drives it sparingly, fuel efficiency really shouldn't be a factor.
As of this writing we see a 1972 Jaguar XKE Convertible Roadster V12 automatic, Series 3 with 58,000 miles and stated excellent condition with an asking price of $59,000. Also, a restored 1973 Jaguar XKE two door Roadster Convertible with a four speed manual transmission, 56,000 miles, with an asking price of $80,000. Another is a 1974 XKE Convertible V-12 with a four speed manual transmission and an asking price of $88,000.
Excellent reference material for the Jaguar E-Type sports cars includes...Jaguar E-Type: The Definitive History 2nd Revised edition Edition by author Philip Porter. Also, Jaguar E-Type: The Complete Story by author Jonathan Wood and Jaguar E-Type: The Essential Buyer's Guide by Peter Crespin.
(Article and photos copyright 2015 Auto Museum Online)