The car featured in this article is an American built 1930 Austin Bantam Coupe. The company that manufactured this automobile is certainly not a household name but it's story is quite interesting. It's a story of how a start up automaker strove to survive during one of the greatest economic downturns in world history.
American Austin Car Company and American Bantam
The American Austin Car Company was a U.S. corporation which was founded in 1929 in Butler, Pennsylvania and built automobiles under a license from the British Austin Motor Company. The American company styled automobiles based on the British Austin Seven.
Starting a new automobile manufacturing company in 1929, just short of the stock market crash, proved to be a daunting task. The Great Depression that followed the market crash forced established American automakers to slash prices. The Austin Car Company was building smaller vehicles like the Austin Bantam shown her. What was not anticipated was that larger automobiles from the established automakers were being sold for a price that Austin Bantam required for their vehicles. The price squeeze was on. It's well known the difficulties luxury car makers had during the Great Depression. In the case of the American Austin Car Company, they were hurt on the lower end.
A smaller automobile like the 1930 Austin Bantam was proven to be popular in Europe. European taxes favored smaller cars with less horsepower. The question was, can this same automobile make it in the U.S. where many car buyers felt that bigger was better. You could make the case that the economical Austin Bantam was like the Volkswagen many years before Volkswagen was imported to America.
American Austin Car Company Opens for Business in 1929
When the American Austin Car Company marketed their new small yet well designed car, orders went through the roof. They received orders for over 50,000 vehicles but had a factory in Butler, Pennsylvania that could only turn out about 100 cars per day. This was a huge problem but it was remedied before too long. When the Great Depression began settling in, orders dropped drastically and the factory in Butler closed it's doors in 1932.
A young auto dealer from Florida named Roy S. Evans along with investors bought the Butler, Pennsylvania plant and began turning out vehicles once again. The plant still couldn't meet the relatively low demand and the money investors pulled out leaving things with the young yet still optimistic auto dealer.
As it turned out, the American Austin Car Company went bankrupt in 1935 and was taken out of bankruptcy by Evans who renamed the company American Bantam. All formal ties with the British company then ceased. American Bantam began producing cars from 1938 and ended production in 1941.
When American Bantam started selling cars again in 1938 the economy was still a giant headwind. Prices for larger automobiles were still heavily discounted and when all was said and done, American Bantam lost about $75 for each of the 6,700 vehicles they produced from 1938 through the next two years.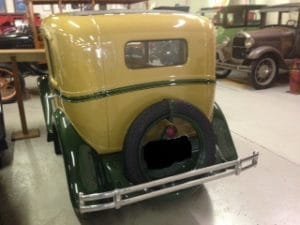 Military Orders
During 1939 and into 1940  the U.S. military was awarding vehicle contracts for all purpose vehicles. Ford and Willys had complete access to Bantam's design and submitted their own designs.
There was the question of whether American Bantam had production facilities that could meet the demands of a military contract. In the end, American Bantam received a government contract for a vehicle known as the Bantam Reconnaissance Car (BRC). The army had requested an all-purpose military vehicle, and it was the BRC that became the prototype of the jeep, later produced by Willys and Ford.
1930 Austin Bantam Specifications
The 1930 Austin Bantam like the model featured in this article came with an 46 Cubic Inch Inline 4 cylinder engine. The engine produced 15 HP. The Bantam was very economical to operate achieving about 40 miles per gallon. Top speed was also about 40 MPH.
The automobile came with a three speed manual gear box.
Bantam's wheelbase was 75 inches. It's length 105 inches and weight averaged about 1,100 lbs.
New car price in 1930 averaged about $375. This was just slightly cheaper than than Ford's V-8. As an example a 1930 Ford Model A could be bought for about $400.
You may enjoy the additional Auto Museum Online articles found on the links below...
The 1929 Stutz Model M Le Baron Phaeton
Reference material for this article includes...Collector Automobile Magazine...American Austin Bantam Club...Standard Catalogue of American Cars.
Austin Bantam Collector Car Values
The American Austin Bantams produced from 1929 to 1934 are affordable for just about any collector. Good automobile to start a collection with. These cars are indeed rare since only about 20,000 American Austins of various body styles were built before the factory in Pennsylvania closed in 1935. Another 8,000 were built from 1938-40.
As of this writing we're finding running 1930-1934 Bantam Coupes in the $6,000 to $15,000 range. Full restorations and frame off restorations will command a higher price. Restored American Austin Roadsters are seen in the $20,000-$29,000 range.
The American Austin Bantam Club is the world's first organization dedicated exclusively to the restoration and preservation of American Austin and Bantam vehicles that were built in Butler, Pennsylvania. The club welcomes owners and fans of American Austin, American Bantam, Bantam Reconnaissance Cars, as well as the English Austin Seven and its derivatives. Check out their website at www.austinbantamclub.com

(Article and photos copyright Auto Museum Online)