The vehicle featured in this article is a 1949 Diamond T Model 201 One Ton Truck.
The Diamond T Motor Car Company
The Diamond T Motor Car Company was a  Chicago Illinois automobile manufacturer for a short time from 1905 to 1911. After 1911 Diamond T produced only trucks and enjoyed much success for many decades.
The "T" in Diamond T was Chicago's Charles A. Tilt, and the company's  logo came from his father's shoe company, where the diamond signified quality and the "T" represented the family name.
Diamond T's reputation was as a builder of heavier trucks, typically one ton and larger. The company produced quality trucks with the style you might look for in a passenger automobile. Some would refer to Diamond T as the "Cadillac of trucks". Charles Tilt made the comment.."A truck doesn't have to be homely". Diamond T certainly lived up to both of those attributes.
During the First World War Diamond T built more than 1,500 Liberty Trucks for the military. During World War Two, when the company produced over 50,000 trucks with many of these vehicles purchased by the British Purchasing Commission. This included half-tracks, army wreckers, tank tractors, and tank movers. Lots of heavy duty vehicles that the military required.
Diamond T is Acquired by the White Motor Company
The White Motor Company purchased Diamond T in 1958. In 1960 White moved all production from Chicago to Reo's manufacturing facilities in Lansing, Michigan. The Lansing Division of White Motor Company then produced both Diamond T and Reo trucks. This all changed beginning in 1967 when the two brands, Diamond T and Reo, became one brand known as Diamond Reo. As a result of the two brands being merged into one, the White Motor Company established a new Diamond Reo Division and that same year started building Diamond Reo trucks.
Diamond T Model 201
The Model 201, a one-ton pickup, was introduced in 1938 and used a Hercules engine and Warner Gear transmission. Highly regarded for its rugged and sturdy character, the sturdy Model 201 was many times converted for use as a towing vehicle.
The six cylinder Hercules engine powered the 1949 Diamond T Model 201. Hercules Motors Corporation produced both gasoline and diesel engines and either could be employed without major changes to the vehicle. During World War Two Hercules significantly increased production for the U.S. Military and by the end of the war had supplied about 750,000 engines for the war effort.
The Model 201's were built from 1938 to 1949. These are rare today because the best estimates put total Diamond T Model 201 production for the entire run at about 7,000 vehicles.
It's estimated that Diamond T produced about 250,000 trucks over the company's 56 year history.
1949 Diamond T Model 201 One Ton Specifications
The 1949 Diamond T Model 201 was built with a 236 cubic inch inline six cylinder Hercules engine that delivered 91 HP.
The engine worked into a Warner T-9 Four Speed Manual gearbox.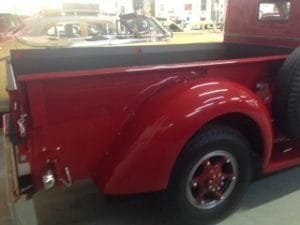 The trucks were built with an X-Braced frame that was placed on an extra heavy duty front axle and a floating rear axle with leaf springs in each corner.
Gross vehicle weight was about 8,000 lbs.
New truck price for the 1949 Diamond T Model 201 One Ton Pickup was in the area of $1,675. Diamond T's weren't cheap trucks to purchase since it's price was at least $200 more than a Ford One Ton at that time. By the same token the cost was justified considering the Diamond T reputation for quality and rugged construction.
You may also enjoy the additional Auto Museum Online articles found on the links below...
Reference material for this article includes...The Worlds Toughest Truck The Reo/Diamond Reo Story by Robert R. Ebert...Motor Trucks of America by James A. Wren...Standard Catalog of U.S. Military Vehicles.

The 1949 Diamond T Model 201 Collector Values
For a variety of reasons, the Diamond T Model 201 is a popular classic truck. The Diamond T trucks were known for quality construction and engineering. The trucks were built for rugged jobs but at the same time offered great styling. The Diamond T Model 201 One Ton is probably one of the most stylish classic trucks ever produced.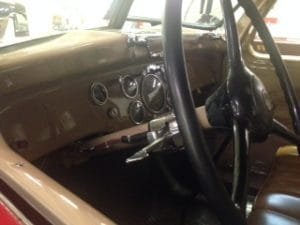 As mentioned earlier, the Diamond T Model 201 is a rare truck and not easy to find. With only about 7,000 built from 1938 to 1949 there simply are not many of them around these days.
We have seen finely restored 1949 models in the $37,000-$50,000 plus range. We also see mechanically sound yet non restored models with some minor rust in the $25,000 to $30,000 range. A 1949 Model 201 project truck which needs complete rebuilding was priced at $11,500.
(Article and photos copyright Auto Museum Online)