Featured in this article is a nicely restored 1922 Buick Five Passenger Sedan. Buick, having established itself as a luxury brand within General Motors, touted the comforts and quality of construction of this five passenger automobile with it's advertising and marketing.
Buick Offered Style, Comfort, Quality and Performance
Buick targeted this sedan model to those buyers who preferred a closed-in quality automobile with extra room. Enough room to comfortably seat five people as demonstrated by it's extra wide front seat. As a side note, Buick also produced a roomy seven passenger sedan during the 1922 model year. The 1922 Buick Five passenger Sedan also provided tastefully chosen carpet, shades and other interior trimmings.
In an advertisement appearing in a 1929 issue of Ladies Home Journal, Buick claimed that more female drivers preferred Buick over it's competition because it offered not only better dependability but also the ultimate in comfort and a smooth ride. To quote a statement within the ad..." Buick offers the highest standard of motoring comfort ever attained; and this is one vital reason why more women drive Buicks than any other fine car".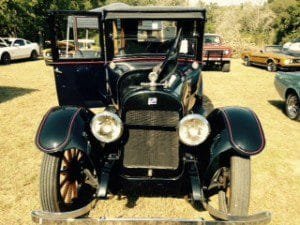 The Early 1920's Auto Industry
The Buick Motor Car Company was founded in 1903 by Scottish industrialist David Dunbar Buick. It was headquartered in Flint, Michigan. Not long after Buick arrived on the scene it was acquired at the beginning of General Motors.
Things were going quite well for automakers during the early 1920's. After a recession in 1920 the economy picked up. Efficient production methods advanced allowing car prices to actually come down.
Beginning in 1925, all Buick models were equipped with six cylinder engines. Buick also is known as the first American automaker to introduce four wheel brakes on mass production models during the 1920's. Another interesting note regarding Buick history is that the 1911 Buick was the first built as a completely enclosed American automobile. Buick beat Ford to this milestone achievement.
1922 Buick Sedan Specifications
The 1922 Buick Five Passenger Sedan was built with a 242 Cubic Inch Inline Six Cylinder engine providing 35 HP.
Power came to the rear wheels via a three speed manual gearbox.
Wheelbase was 118.0 inches. Shipping weight was 3,425 lbs.
New car price for this model in 1922 was about $1,550. Total model production for 1922 was 4,878 units.
The car's serial number is stamped on an oval plate attached to the left side of the frame near the gas tank. Look for the engine number on the upper left side of engine near the carburetor.
See the additional Auto Museum Online articles on the links below...
A Very Rare 1929 Stearns-Knight Luxury Automobile
A Nicely Restored 1940 LaSalle
Locations of Serial Numbers on Classic and Vintage Automobiles
Excellent reading material regarding Buick cars and their history include…The Buick: A Complete History (90th Anniversary Edition) by authors Terry B. Dunham and Lawrence R. Gustin. Also, David Buick's Marvelous Motor Car: The Men and the Automobile that Launched General Motors (Updated 2013) by author Lawrence R. Gustin.
1920's Buick Collector Cars
Classic and vintage Buick's have always been popular collector automobiles. Buick's had a history of good quality and creative designing.
Current valuations for the 1922 Buick Six Cylinder Sedan are in the mid $20,000 range, some higher.  This is for a finely restored model.
Buick produced both four and six cylinder powered automobiles in 1922. The four cylinder Series 30 models appear to have sold at about ten to twenty percent higher than the six cylinder versions.
There are also several Buick clubs which work to preserve their classic and vintage vehicles. They include the Buick Club of America with several chapters, the 1929 Silver Anniversary Buick Club, the Buick Car Club of Australia, the Buick Club of Norway and the Buick Club of Germany.
For those thinking about restoring a 1920's era Buick you may want to check out the Buick Club of America forums where you can get a lot of questions answered by vintage Buick owners and possibly find sources for old parts.
(Article and photos copyright 2015 Auto Museum Online)