Our featured automobile is the 1946 Ford Super Deluxe Coupe.
The 1946 Ford like other automobiles produced right after the end of World War Two were for the most part designs from 1941 and the limited 1942 cars. It was no secret that during the war years, designers were working on military projects.
When the war ended the only basic designs at hand were those from before the war. Those were used and some cosmetic touches were added. The demand for new automobiles by the public was immense so whatever rolled off the assembly line was sold.
This pent up demand was good news for the automakers. Many of them struggled to stay afloat and make a profit during the Depression years of the 1930's only to have civilian car production stopped on February 1st of 1942 due to America's entry to the war. Being out of civilian car production for three to four years, there was some catching up to do.
Ford Began Civilian Car Production after the War
Ford Motor Company was the first American automaker to start production after the war's end. The fine looking 1946 Ford Coupe shown in this article is an excellent example. The first 1946 Ford came off the assembly line as early as June 1945. One of the changes on this rare 1946 Ford is the horizontal grille layout. The hood was also widened and had a center strip. The new larger engine was a 239 cubic inch V-8 delivering 100 horsepower. This same engine before World War Two began had been put into Mercurys. Another 90 horsepower engine was offered that is described in the specifications section of this article.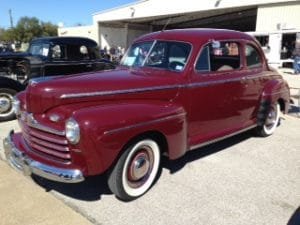 Models Offered
For 1946 Ford offered to trim lines...the Deluxe and Super Deluxe. The Special model was dropped for 1946. The 1946 Fords were base priced at around $1,100 or a bit more for a six cylinder version and it was said that a buyer might have been inclined to pay another few hundred dollars under the table, because of the enormous demand, to get one quick from a dealer. The 1946 convertible model had a base price tag of around $1,400.
Ford produced a total of 468,000 vehicles for the 1946 model year. Out of this amount 16,300 were convertibles. The largest model segment were two door sedans of which Ford built 163,000. Ford built 720 Sportsman Convertible models with their wood side paneling.
The Sportsman model was introduced at a time when steel was still in short supply. Ford began post war production so early that wood was more attainable than steel thus the Sportsman's wood side panels.
1946 Ford Super Deluxe Coupe Specifications
The 1946 Ford had a 239 cubic inch V-8 L-Head engine delivering 100 horsepower. Also offered and the one in our featured automobile was a 225 cubic inch six cylinder engine delivering 90 horsepower. Fuel consumption for both engine versions was rated just under 14 MPG.
A three speed column shift manual transmission was the only transmission available for 1946 models.
Brakes were drum front and back.
The car's wheelbase was 114.0 inches The car's length was 197.8 inches, width 73.4 inches and height 66.1 inches.
Vehicle weight averaged around 3,050 lbs.
Suspension front and rear consisted of transverse leaf springs.
Please see additional Auto Museum Online articles found on the links below...
1941 Cadillac Series 62 Convertible

Reference material for this article included...The Ford Century: Ford Motor Company and the Innovations that Shaped the World by author Russ Banham.....Automobiles of the Chrome Age: 1946-1960 by Michael Furman.

1946 Ford Coupe Collector Values
1946 Ford automobiles are relatively rare. The very low production of 1946 Sportsman models make them extremely rare.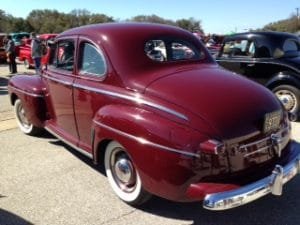 Depending on the model, Deluxe or Super Deluxe and the car's condition, restored or not restored, how many original parts are still on the car, the prices asked can have a wide range.
As of this writing, a 1946 Super Deluxe Convertible in finely restored condition sold for $35,000. Some asking proces for these convertibles may even get into the high $50,000 and low $60,000 area. A 1946 Ford Two Door Sedan sold at auction for $18,700. A Ford Super Deluxe Business Coupe sold for $25,000. You'll also see asking prices for these models into the mid to high $30's. Several other 1946 Ford Super Deluxes are price between $18,000 and $20,000. A 1946 Ford Woody Wagon of which very few were manufactured has an auction asking price of over $90,000. You'll find that prices asked vary greatly on condition and originality.
(Article and photos copyright 2017 Auto Museum Online)