The classic 1955 Buick Special Two Door Sedan featured in this article is a popular collector car. Buick, which fit well between the Chevrolet and Cadillac brands, had an excellent year in 1955 producing 738,814 automobiles. Buick Special models accounted for 381,946 of that amount. To demonstrate just how good those production numbers were, Buick did not surpass them until 1983. That says something. In 1955, Buick was the number 3 automaker behind Chevrolet with 1.7 million cars and Ford with 1.4 million.
1955 Buick Special Design
An all new body and chassis design for the Buick Special was introduced in 1954 and carried over to 1955. Five different models of the Buick Special were built. The new design of 1954 had it's roots back to a 1952 concept car named the XP--300.
These included a 2-Door Sedan, 4-Door Sedan, Riviera, Convertible and all-steel Estate Wagon. The model had the classic low and wide design along with the classic two-tone paint scheme of the era.The new design included a new Wide-Screen Grille and chrome-capped headlamp along with a swept back tail light.
Some refer to the mid 1950's period as the era of big steel, flashy chrome, and huge white wall tires although the new design of 1954 did not have the same amount of chrome of previous years.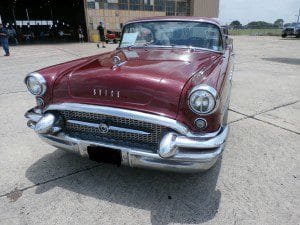 Buick advertised the Special's roominess along with quality Buick upholstery.
Following is how Buick described their interiors..."Each model of the SPECIAL Series gives you big Buick spaciousness and big Buick quality. Seats are deep and soft and  wide enough for three to sit abreast in perfect comfort. Interiors are upholstered in smart Nylon and Cordaveen with Buick's new embossed trim styling throughout."
Buick Nailhead V-8
Buick's first generation of V8 was offered from 1953 through 1956. This was the Nailhead V-8 similar to Oldsmobile's new Rocket 88. The Nailhead name came about as the engine's valve stems were quite long with a relatively small head.
The engine would be improved again for 1955 with added power. Buick advertised their 1955 V-8 as follows...The lightest of all V8 engines with the same power output -- for better balance to the car's total weight, with improved steering, handling and performance."
The second generation of Buick's Nailhead engine came out in 1957. The Nailhead was increased to 425 cubic inches in 1963 and continued as such for another three years.
1955 Buick Special Specifications
Stock engine for the 1955 Buick Special was a 264 cubic inch V-8. The engine delivered 188 horsepower. The engines in Buick's Roadmaster, Century and Super series models put out 236 horsepower.
Transmissions available were a three speed manual and a variable pitch Dynaflow automatic. The automatic was standard on the Roadmaster models and optional on all others. The three speed synchromesh manual was standard equipment through 1958.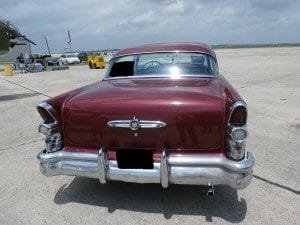 Brakes were four wheel hydraulic drum. Options included improved power brakes and power steering.
Wheelbase was 122.0 inches, the same as with the 1954 model. Overall outside length was 206.6  inches. Weight was about 3,700 lbs.
Air conditioning was an option with the four door sedan and Riviera models.
You may also enjoy the additional Auto Museum Online articles on the links below...
Serial Number Decodings on a Select List of Classic Cars
A Modified 1972 Buick Riviera Boattail
1940 Buick Special Two Door Sport Coupe
1955 Buick Special Collector Car
The mid 1950's Buick Special remains a popular collector car. The car's attractive design is a good representation of 1950's modernization.
As of this writing, the range of asking prices for 1955 Buick Specials might run from $14,000 up to $60,000 plus.
The lower end vehicles would all be in running condition with some restoration. The high end prices would be for newer restorations, plenty of originality and in some cases show quality.
As a side note, because of the high production numbers for 1954 through 1956, locating an original Nailhead V-8 engine for a restoration might not be too difficult. Most mechanical parts for these series of Buicks are available as reproductions. Trim materials and panels will take a bit of searching.
Reference material from GM and Buick Archives.
(Article and photos copyright 2015 Auto Museum Online)