The truck featured in this article is the 1966 Ford F-100 Half Ton Pickup. The fourth generation of the Ford F-Series is a line of pickup trucks and commercial trucks that were produced by Ford from October 1960.
Ford F-Series Fourth Generation
In 1961, Ford introduced a new team of F-Series pickup trucks. Longer and lower than its predecessors, the trucks had larger dimensions and new engine and gearbox choices.
One of the most dramatic changes to the series was the Stylesid, which featured a new integrated cab, and box. This particular feature would end up being discontinued after a few years.
In 1966, buyers could order a basic F-100 model for $1,950. Ford offered two different fender style options as well. The Flareside option, which had the fenders outside the box, raised the truck's price to $2,069. The Styleside, which put the fenders inside the box, cost $2,085.
To create the look, the Styleside was extended forward to become part of the cab. The new configuration eliminated the gap between the bed and the cab, removing an area where trapped dirt, mud snow led to corrosion.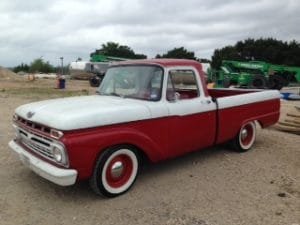 Ford felt the new design would offer a cleaner appearance and increased strength.
This 1966 Ford F-100 is a wonderful example of designers and engineers doing everything correctly.

In 1966, a new "Low Silhouette" pickup featured a single speed transfer case and mono-beam front axle.The truck sat lower than a typical 4WD pickup but had a 2 inch higher break-over point. The mono-beam front axle used coil springs and large radius arms similar to the twin I-Beam used on 2 wheel drive trucks.
Other changes for 1966 were minor and primarily cosmetic.
It was a terrific year for Ford trucks. A restyled grille was the only change of note to the 1966 F-series pickup trucks. It was the second year of the "Twin I-Beam" front suspension system where the two front axles work independently to absorb road shocks. It also holds wheel alignment which reduces tire wear.
In combination with the new Flex-O-Matic rear suspension which adjusts spring stiffness, you are guaranteed a smooth ride. Flex-O-Matic is a progressive suspension system. When the vehicle is unloaded, the suspension is designed to offer a nice ride, but as the vehicle is loaded down, more of the spring rate comes into play, firming up the suspension. They operate better than standard springs/shackles if you plan on doing any kind of hauling or towing.
While 1966 was the first year for new options such as the 360 and 390 cu. in. V8 engines, it was the last year featuring this body style. Ford's F-Series trucks were restyled for the 1967 model year.
Ford chose 1967 to introduce its next generation (5th) of F-Series pickup trucks. Body lines became more squared and flat side panels were accented with a narrow indentation, which was highlighted by a stainless molding on the Ranger models.
Truck interiors became more "plush" (by 1967 standards) with the addition of a padded dash, padded sun visors, and seat belts with shoulder anchor harnesses, all as standard equipment.
Dual brakes were introduced in 1967 but engine choices remained the same as with the 66 models.
1966 Ford F-100 Specifications
Ford manufactured its 1966 F-100 with either a 240 cubic inch, in-line six-cyinder engine, which offered 150 horsepower, or a 300 cubic inch in-line six-cylinder engine with 170 horsepower. Also, was an option for either a 360 or 390 cubic inch V8 engines.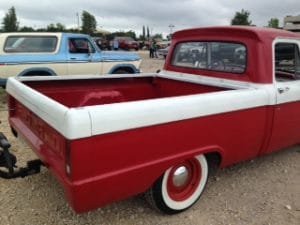 Ford offered a three-speed manual transmission as its standard on the F-100. Optional transmissions included a four-speed manual, an automatic and a heavy-duty, three-speed manual. The 1966 model marked the year Ford first manufactured the F-100 in two- and four-wheel drive.
First year for "Twin I-Beam" front suspension.
There were two wheelbase lengths for 1966. These were 115.0 inches and 129.0 inches. The two-door featured a 115-inch wheelbase with a 6.5-foot box; the four-door had a 129-inch wheelbase and an 8-foot box.
You may enjoy the additional Auto Museum Online articles found on the links below...
Reference material includes...The Complete Book of Classic Ford F Series Pickups by author Dan Sanchez...Classic Ford Trucks by Auto Editors of Consumer Guide...Ford F Series: America's Pickup Truck by author William Scheller.
1966 Ford F-100 Collector Valuations
The F-Series has been America's best-selling truck for the 40 consecutive years since its introduction.
Ford's F-series followed changes in how buyers perceived trucks. Pickup trucks went from being something people used only for work to actually being a style and lifestyle statement of their own. Today there is certainly a collector base for earlier F Series Pickups.

As mentioned above, the 1966 Ford F-100 came in both a 115.0 inch and a 129.0 inch wheelbase. Average weight was about 3,200 lbs.
Current 1966 Ford F-100 values range from about $16,000 to $23,000 for excellent to museum quality trucks. Prices would be well under $10,000 for F-100's in good to fair condition.
(Article and photos copyright 2017 Auto Museum Online)