Just under 3,000 of the 1964 AMC Ambassador Cross Country 990 Station Wagons were produced. Built with a 327 cubic inch V-8, the Ambassador Station Wagon featured in this article has plenty of power.
A word about AMC...The company itself came from the ashes of Hudson and Nash. American Motors Corporation represented a last, desperate attempt at survival for an American independent automobile company.
The Top of the Line Ambassador
The Ambassador line of vehicles were AMC's top of the line from 1958 to 1974. The Ambassador nameplate was also the longest continuously used nameplate in American automobile history.
The Rambler Brand
The Rambler automobile brand was used by a succession of automakers beginning in 1900 with the Thomas B. Jeffery Company of Kenosha, Wisconsin. This lasted until 1914 shortly before the company was taken over by Nash Motors. Nash used the Rambler brand from 1950 to 1954. Nash was acquired by American Motors in 1954 and the Rambler brand was continued by them from 1954 to 1969.
The Rambler Ambassador and Richard A. Teague
Richard A. Teague was an automobile designer whose career in Detroit had him working for General Motors, Chrysler, Packard and eventually AMC. At AMC he became Vice-President of Design and had notable success.
The Cross Country Station Wagon appeared in 1954 and initially rode on a 108-inch wheelbase. In 1959, Car Life magazine named the Rambler wagon "one of the most attractive cars on the road." By 1963, the cars were selling well; Motor Trend magazine named the entire Rambler line its "Car of the Year."
The 1963 AMC Ambassador went through an entire redesign. Teague along with Edmund Anderson gave the Ambassador a cleaner and smoother look. This was much needed as the Ambassador carried the same body from the 50's. Many believe the Cross Country had cleaner lines than its Big Three competitors—and there's no question it was very popular with buyers.
Going into 1964, the AMC Ambassador had minor trim changes along with some new options. The "electric-shaver" grille on the 1963 model was replaced with a flush-mounted design, and the engine and transmission options were widened. A two-door hardtop body style called 990-H was added for the first time since 1957. Base 880 models were dropped from the line, and the Ambassador took on the trusty 327 cu in (5.4 L) V8 as its standard engine again.
1964 Rambler Ambassador Cross Country 990 Specifications
As mentioned above, the featured 1964 Rambler Ambassador Station Wagon was built with a 327 cubic inch V-8 engine delivering 250 HP.
Gearbox was a three speed manual.
Brakes were four wheel drum. Front suspension is independent with rear suspension live axle.
Dimensions for the 64 Ambassador Station wagon included a 112.0 inch wheelbase, an outside length of 189.3 inches, a width of 71.3 inches and a height of 55.6 inches.
Rambler wagons are sometimes affectionately called "Kenosha Cadillacs," after the Kenosha, Wisconsin plant where they were manufactured.
You may also enjoy the Auto Museum Online articles on the links below...
1929 Nash Advanced Six with Rumble Seat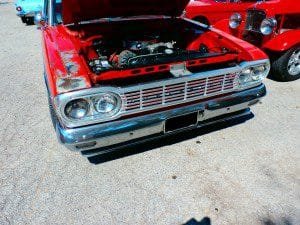 Rambler Ambassador Station Wagons as Collector Vehicles
One of the biggest challenges for those wishing to find an AMC Rambler Ambassador Station Wagon is locating one that's intact. Because of this, the cost of acquiring one will vary greatly depending on condition.
There are some fully restored models that do come up for sale from time to time. It also appears that these Rambler wagons are gaining in collector popularity. This also holds true for several classic station wagons which represent an era of automobile design we're likely not to see again, at least for quite some time.
As of this writing, Ambassador 990 Station Wagons have a published value of between $6,000 and $9,000 for excellent original show quality condition. This is an average and prices of course will vary. The relatively reasonable cost of the Rambler 990 Ambassador Wagon bodes well for the chance of decent appreciation going forward.
The story of AMC is quite interesting in as much as it arose from the troubled Hudson and Nash brands. It's downfall appeared to have much to do with their competitors and the American public's focus on performance of which AMC really wasn't in a position to match. In addition, a few of their later models didn't resonate well with the buying public.
One excellent book regarding the story of the American Motors Corporation is ...American Motors Corporation: The Rise and Fall of America's Last Independent Automaker by author Patrick R. Foster.
(Article and photos copyright Auto Museum Online)