In 1955 Chrysler restyled it's models and a great example of this restyling is the 1955 Chrysler 300 featured in this article. The model is also referred to as the C-300 designating the coupe. The 1955 Chrysler 300 is what writer, Karl Ludvigsen, called the "Beautiful Brute". Karl Ludvigsen had a 50+ year career as a journalist, historian, consultant and author on the automotive industry. He also did a stint in the 1950's  as a designer at GM.
The Powerful 1955 Chrysler 300
The story of the 1955 Chrysler 300 is an interesting one. This automobile delivered 300 horsepower.
While Chevrolet had their Corvettes and Ford their Thunderbirds, Chrysler put so much of their resources into new styling and did not put out a two seater like those from GM and Ford. What they did introduce was America's first 300 horsepower automobile. The last vehicles to deliver that kind of power were limited production 1930's Duesenbergs which were only affordable to the very wealthy.
The Chrysler Hemi Engine
When car enthusiasts speak about Hemi engines they most frquently refer to Chrysler. Other automakers did have Hemi's but Chrysler is the one that marketed the name most.
The 1955 Chrysler 300 was powered by the most powerful Hemi V-8's to date. Chrysler produced three types of Hemi engines with the first being designated FirePower which ran from 1951 to 1958. When the 1955 Chrysler 300 was introduced it was the most powerful production car in the United States.
Hemi engines essentially are built with a hemispherical cylinder head. There are two valves per cylinder with intake and exhaust stems pointing in different directions. One attribute of the Hemi is minimal heat loss and better compression ratios from higher octane fuel.
Chrysler Engineering and Styling
Chrysler had a reputation for solid engineering and the Chrysler 300 was a perfect example of that. This model increased dealer showroom traffic which was the intention and therefore helped sell all models of the Chrysler line. Here you had a muscle car for the older generation which offered a luxurious interior with leather upholstery. This was something unique.
The Chrysler 300 was really created for NASCAR racing an it dominated that venue for several years. In 1955 Chrysler won the NASCAR Grand National and the AAA Championship. These kind of successes really helped push sales.
Credit Virgil Exner's design team for fine body styling. The goal for the design team working on the 55 models was to achieve a complete break from the past. As a result, the Chrysler 300 was somewhat a combination of a New Yorker Newport hardtop body with an Imperial egg crate grille. The Imperial grille helped give the 300  a different look from the New Yorker and Windsor models. While the 55 Chrysler 300 is noted for it's power and competition successes, as stated above, it was also luxurious inside with leather seating and other luxury appointments.
1955 Chrysler 300 Specifications
As mentioned above, the 1955 Chrysler 300 was equipped with the most powerful Hemi engine to date. The engine was a Chrysler FirePower 331 cubic inch Hemi V-8 delivering 300 HP. As a side note, the 1955 New Yorker had a 331 cid Hemi which put out 255 HP. Not the 300 HP you'd attain from the C-300 but a very respectable horsepower for it's year.
Transmission is a two speed automatic. Brakes are four wheel hydraulic drum.
Dimensions included a wheelbase of 126.0 inches and an overall length of 218.6 inches. Vehicle weight was 4,150 lbs.
As another side note, the Chrysler 300's length was increased to 220.4 inches in 1956 and the horsepower was also increased up to 355.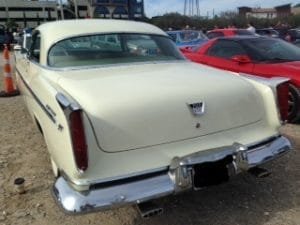 Production numbers for the 1955 Chrysler 300 was 1,725 units making the automobile quite rare today. Today there are something over 200 that are registered.
New car price was about $4,100.
You may also enjoy the additional Auto Museum Online articles found on the links below...
The 1936 Chrysler Convertible Sedan
The 1939 Chrysler C-24 Custom Parade Phaeton
Reference materials include...Chrysler 300 "America's Most Powerful Car" by author Robert Ackerson.....The Chrysler 300 Anthology by Harry W. llaeia...Complete Book of Collectible Cars by the Editors of Consumer Guide.
The 1955 Chrysler 300 Collector Car
These original models were fast cars and fun to drive and popular with collectors.
The 1955 Chrysler 300 was a excellent dealer showroom attention grabber. With it's powerful 331 Hemi engine the car dominated NASCAR until 1957 when most automakers pulled out of racing competition.
Current valuation for a fully restored pristine original is in the $125,000 to $135,000 range.
(Article and photos copyright Auto Museum Online)