The first Excalibur was an automobile fitted on a Studebaker chassis and for a real short time with a Studebaker engine. This was the year 1964 and just about the same time that the first Excalibur received a Studebaker engine, Studebaker stopped building cars. This is the story about a show car that went on for a very successful production run.
Brooks Stevens Excalibur
The fine automobile featured in this article is a 1986 Excalibur Series V Phaeton. A beautifully styled automobile which was designed by Brooks Stevens. At that time, Stevens was a design consultant for Studebaker and was asked to design a new automobile for the upcoming New York Auto Show. Studebaker wanted a "show car". In fact, Studebaker sales had been going south for a long time and the company wanted the show car to help boost their presence and image. At that time the only think Studebaker was building was the Lark model in Ontario, Canada. They were holding on by a thread.
Stevens and his team actually built the prototype car in about two months. The car would be a contemporary classic. A car with 1930's type styling. When the prototype was ready just a few days before the auto show was to begin, Studebaker announced it was ceasing production. The 1964 Excalibur nevertheless was displayed at the New York show. Steven's himself and his sons decided to move forward with their car project and purchased a small booth at the show and proceeded to show the car themselves. The reception was extraordinary. In fact, Brooks Stevens immediately had a list of enthusiastic buyers.
Vintage auto enthusiasts may remember that the Excalibur was designed after the Mercedes-Benz SSK. Not line for line but with a lot of similarities. Brooks Stevens had even owned an SSK at one time.
Excalibur's GM Engine

With Studebaker and it's 289 cubic inch V-8 out of the picture, Stevens arranged to receive Chevrolet engines for his new car. The engines that Chevrolet provided were 327 cubic inch V-8's that could deliver 300 HP. Chevy had tuned the engines to Corvette standards. All of a sudden the new Excalibur became a true performance car. The Excalibur with it;s new engine was rated at a top speed of 160 MPH and the 0-60 in under 5 seconds. Truly a much higher performer that the Studebaker engine Excalibur.
Celebrities Flock to the Excalibur
The Excalibur was produced from 1964 to 1986. The automobile had and has a long list of celebrity owners. Frank Sinatra and Dean Martin were just two of that long list. It was reported that Phyllis Diller owned four Excaliburs.
The Successes of Brooks Stevens

Brooks Stevens was a very successful industrial designer. During his career he would design everything from washing machines to motorcycles, to lawnmowers and tractors and of course automobiles. Add to that boats and the famous Oscar Meyer Weinermobile. He was the most successful industrial designer of the twentieth century. Stevens even taught a class in design up until his death in 1995.
Brooks Stevens was a very successful automobile designer who would con­tribute designs to over forty makes of car. His Jeep Wagoneer was just one of those that achieved great success. You would think that with the design ability that Stevens truly possessed, why are there not more of his designs still around. The answer is simply that much of his work was for automobile manufacturers who were in trouble. Stevens did fine work for Willys- Overland as well as for Kaiser, and as mentioned, for Studebaker.  If Stevens had done design work for one of the Big Three, we probably would see more of his automotive work around today.
1986 Excalibur Specifications
The 1986 Excalibur Phaeton had a Chevrolet small block 305 cubic inch V-8 engine delivering 155 HP.
Transmission as an automatic four speed.
Brakes were four wheel power disc.
Dimensions included an outside length of 204 inches and a wheelbase of 124 inches. Curb weight was 4,600 lbs.

The Excalibur is the only car built with two spare tires.
See the Auto Museum Online articles on the links below...
The 2006 Ford GT Mid Engine Supercar
1968 Plymouth Barracuda Formula S
An excellent book regarding Brooks Stevens' amazing design career includes...Industrial Strength Design : How Brooks Stevens Shaped Your World by author Glenn Adamson.
Excalibur Company Fails
The company started by Brooks Stevens in 1964, the Excalibur Automobile Corp, failed in 1986. The downturn began with the recession in 1981. The company was eventually sold by the Stevens family and by 1986 production of the automobile model ceased. Over 3,200 Excaliburs were produced by the original company.
Brooks Stevens Automobile Museum

At one time there was a Brooks Stevens Automobile Museum in a Milwaukee, Wisconsin suburb. Stevens put a lot of time and effort into the museum.
The museum itself had
12,500 square feet
of exhibition space and, when it opened, displayed
thirty-four autos
, most of them from Stevens's personal collection.
The museum also exhibited postwar vehicles that Stevens respected, including a 1954 Rolls Royce Silver Wraith town car. The museum unfortunately closed in 1999, five years after Stevens death. At that time his vast car collection was auctioned off by Stevens' family.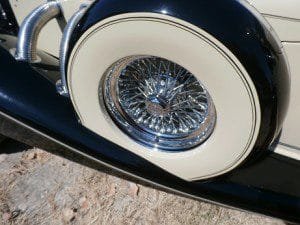 Today's Excalibur Collector Car Values
The Exclaibur remains a popular collector car. The original automobiles are rare considering that only over 3,200 were built.
Some are more collectable than others and are much rarer than others. This is determined by the design and number built. The Excalibur has been officially added to AACA as a factory built Antique Automobile as of 2007.
Depending on mileage and overall condition you'll find Excaliburs priced from the $28,000 range to $80,000 or more.
(Article and photos copyright 2015 Auto Museum Online)