Featured in this article is a fine looking 1956 Ford F-100 Half Ton Pickup. This is a milestone vehicle which incorporated some new styling and more options.
The F-1 Becomes the F-100
The second generation Ford F-Series were redesigned for 1953 with a more integrated look. The second generation F-100 also had a longer wheelbase, with longer front and rear leaf springs to improve ride smoothness. The front suspension was moved back to give a tighter turning radius.
The year 1953 also was Ford's 50 Year Anniversary. On the F-100, it was the horn button that designated Ford's Golden Anniversary with a special gold rim that was lettered with "50th Anniversary 1903-1953." Of major significance for 1953, Ford changed the names of the various pickup models. The F-1 became the F-100, the F-2 and F-3 now became the F-250, and the F-4 now became the 1-ton F-350. The second generation F-Series offered options such as a dome light, lighter, arm rests, sun visors and even a radio.
The 1953 new second generation model offered a much better windshield area which was some fifty-five percent larger. Also, the glass was curved rather than flat. The rear window stretched the entire width of the cab adding a greatly improved rear view and the side window ledges were lowered to better help drivers during parking. You could also have the choice of the Standard cab or the Deluxe cab. The Deluxe offered stainless drip rail molding, a sun visor on the passenger side, driver and passenger armrests, a cigar lighter, chrome vents window moldings, twin horns, foam padding for the seats and chromed grille "teeth."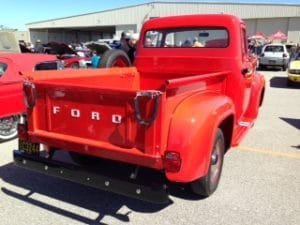 The 1956 Ford F-100
The 1956 F-100 is of the second generation which went from 1953 through 1956. The 1956 F-100 is a one year body design which was made to compete against Chevy's Task Force Pickups.
Chevy's new trucks were good looking vehicles and offered a new V-8 adding big competition to Ford. . The 1956 F-100 was built with vertical windshield pillars and wrap around windshield. This differed from the sloped pillars and angled windshield of the 1953-55 models. The 1956 F-100 also offered a larger wrap around back window as an option. Also, in 1956, seat belts became an option and beginning that model year Ford offered the very rare "Low GVWR" (gross vehicle weight rating) versions of each of it's models.
The 1956 F-100 also had electric windshield wipers as opposed to the vacuum operated and the electrical system went from six to twelve volts. The 1956 model had a redesigned dashboard and a Ford Lifeguard Steering Wheel which placed the center hub further away from the driver's chest which added to driver safety.
1956 Ford F-100 Pickup Specifications
The 1956 F-100 was built with a standard 223 cubic inch Mileage Maker Inline Six which delivered 137 horsepower. There were three engine versions of the 272 cubic inch V-8 offered as an option. These were a light-duty with a 2-barrel carburetor, a heavy-duty with a 2-barrel carburetor, and a heavy-duty with a 4-barrel carburetor putting out 167 horsepower.
Three transmissions were available for 1956...a three, four or five speed manual and an automatic. The automatic, the "Ford-O-Matic" option for 1956 was the first time in history a Ford truck was available with an automatic transmission.
Front  suspension were an I Beam front axle and leaf spring and rear were a semi-elliptic six-spring design.

Front and rear brakes were hydraulic drum.
Total Ford F-100 production for 1956 was 137,000 units.
Please see the additional Auto Museum Online articles found on the links below...
Reference material for this article includes...Pickup Trucks : A History of the Great American Vehicle by Justin Lukach.....Ford Truck Chronicle by Auto Editors of Consumer Guide.....Ford Pickup Trucks, 1948-56 : Development History and Restoration Guide by Paul G. McLaughlin.
1956 Ford F-100 Collector Values
All pickup trucks from the 1950's are popular collector vehicles. Many changes occurred especially during the early 1950's as with the second generation Ford F-Series Trucks. Designs were more modern looking and new more powerful engines were being introduced.
Values for the 1956 Ford F-100 range all the way from $20,000 to $50,000 depending on overall condition, originality, mileage and degree and date of restoration.
(Article and photos copyright 2017 Auto Museum Online)