The vehicle featured in this article is a beautifully restored 1957 GMC 100 Half Ton Pick Up Truck.
GMC Trucks
GMC as a truck brand was created out of a merger of the Reliance Motor Car Company and the Rapid Motor Vehicle Company within General Motors. GMC as a brand was officially introduced in 1912 at the New York International Auto Show. 
In 1912, GM built about 20,000 trucks.  Prior to the time of unveiling the GMC brand, trucks from GM were produced by both the Reliance and the Rapid companies. By 1913 all GMC truck production was performed at the Rapid Motor Vehicle Company plant in Pontiac, Michigan. Three years later in 1916 General Motors officially created the GMC Truck Division.
GMC trucks were usually sold by GM dealerships that also offered Buick, Pontiac or Oldsmobile models. The Chevrolet truck was sold exclusively by Chevrolet dealers. While the GMC and Chevrolet trucks may at times look identical there are differences in the trucks, some significant over during the latter years.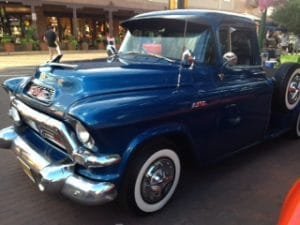 By the second decade of the twentieth century the Chevrolet brand and the GMC brand trucks looked very similar in appearance.  During those early years Chevrolet was marketing their trucks to individuals while GMC was targeted to commercial buyers.
GMC did quite a lot of business with the military during World War Two. An interesting fact from this period is that the first HydraMatic transmission GMC vehicle was made for the military in 1944. Another fact is that GMC frames were built with heavier gauge steel than Chevy trucks.
The Task Force 1957 GMC 100 Half Ton
The 1957 GMC light duty trucks were second generation called  "Task Force" models. These replaced the "Advance Design" trucks beginning in 1955. GMC "Task Force" generation trucks offered 12 volt electrical and the first V-8.
Design changes for the 1957 model year helped give the GMC 100 a family car look while still being a tough worker of a pick up. The new 57's featured a wraparound windshield, two-tone trim and clean lines that included a flatter hood than on previous year's models. GMC 100 models were available in step-side or smooth-sided models. The "step-side has a rear fender well bulge toward the outside of the truck bed.
Options included electric windshield wipers, Hydra-Matic transmission, power steering, tinted glass and four-wheel drive.
1957 GMC Series 100 Specifications
Standard in the 57 GMC 100 was a 269 cubic inch inline six cylinder engine delivering 130 horsepower. More muscle was available. Offered as an option was a 206 HP V-8.
Gearbox was a three speed manual with an automatic available as an option.
Brakes were four wheel hydraulic drum.
The 1957 GMC Series 100 has a 114.0 inch wheelbase. New base price was about $1,950.
You may also be interested in additional Auto Museum Online articles found on the links below...
The 1949 GMC Five Window Pick Up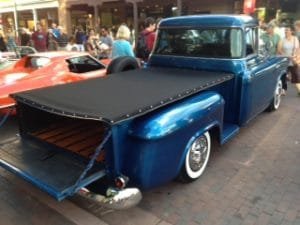 References for this article included the GM and GMC archive collection. For a good deal of additional GMC Truck information along with forums check out www.gmctruckclub.com
GMC Pick Up Collector Trucks
GMC Pickups from the post World War Two era have been popular collector vehicles and some fully restored examples, like the GMC 100 featured in this article, look absolutely stunning.
For the 1957 model year GMC produced three basic light duty pick up models. These were the Series 100 half-ton models like the one in this article. The others were the Series 150 three-quarter ton and the Series 250 one-ton. Major front end design changes occurred with the 1959 models. Also, the light duty trucks all took on the name Apache beginning in 1958. Among the front end design changes for 1958 were four headlights instead of two.
Current price ranges for the 1957 GMC Series 100 run from $10,000 to about $25,000. Exact prices will reflect overall condition, mileage and original matching parts. Highest valued Series 100 for 1957 is the Suburban Pick Up. Here you may see prices ranging from $15,000 to $45,000 plus depending on the usual factors.
Highest prices are generally for fully restored, excellent overall condition, and highly original matching part models.
(Article and photos copyright Auto Museum Online)