When traveling to classic auto show's you may just be lucky enough to come across an exhibit of a 1948 Lincoln Continental two door hardtop coupe once owned by baseball super star Babe Ruth.
The Lincoln Car Company
The Lincoln Car Company, named in honer of President Abraham Lincoln, was established in 1917. After going through some rough economic times, the Lincoln Car Company was purchased by Henry Ford in 1922. After the purchase Edsel Ford was active in redesigning the Lincoln beginning in 1923. It's chief competitor was Cadillac. Edsel Ford's design changes included a two and three window four door sedans and a four passenger phaeton model.
Coach builders would also offer a sedan, limousine, cabriolet and town car.
Up until 1949 the Lincoln Motor Company, while fully owned by Ford Motor, would operate as a somewhat separate company. Beginning in 1940 the company operated as the Lincoln Division of the Ford Motor Company. In 1956 Ford Motor would start a new Continental Division.
Babe Ruth's Lincoln Continental
The Lincoln Continental was built by the Ford Motor Company from 1939 to 1948 and again from 1956 to 2002. The Continental had it's roots in the prior development of the Lincoln-Zephyr.This was a lower priced luxury automobile within the Lincoln line and was the idea of Edsel Ford. The car was produced from 1936 to 1942. The last Lincoln-Zephyr was built in February of 1942 when all civilian car production was halted due to World War Two.
The Continentals built immediately after World War Two, 1946 and 1947, were similar to the pre-war designs with the exception of some grille and trim changes. The Lincoln Continental has always been known as a stylish luxury car.European styling  The 1948 Lincoln Continental was thought to have European designed elegant styling. It ushered in a new standard for Ford's luxury brand.  It was said that the first Lincoln Continental built was Edsel Ford's personal car.
Babe Ruth, George Herman Ruth, owned this car shortly before his death on August 16, 1948. The regal blue Lincoln Continental was used by Ruth as he traveled across the U.S. making speeches and signing autographs and offering tips to Little League teams.
Papers show that the car was a gift to Ruth by the Ford Motor Company.The car was give to the Babe as Ford's recognition of his achievements on the field. George Herman Ruth, nicknamed "The Bambino", played twenty-two season for three major league teams. Ruth played the positions of outfielder and pitcher. This was the last automobile owned by Babe Ruth and it is also a fine example of Lincoln's historic past.
The car today is in it's original shape with original colors and interior. An interesting fact is that the car has a vacuum tube radio requiring about fifteen minutes for the tubes to warm up.
Prior to the Pampa Texas car collector's purchase of the vehicle, the 1948 Lincoln Continental had been in the Museum of Automotive History in Dallas Texas. The current owner was considering selling the vehicle and the Pampa Texas collector seized the opportunity. He said that the car was bought because of his love for baseball.
The Lincoln Continental and Celebrities
For various reasons several celebrities enjoyed Lincoln Continentals. In addition to Babe Ruth, Continentals were owned by Jack Benny, Mickey Rooney, Rita Hayworth and Frank Lloyd Wright.
1948 Lincoln Continental Specifications
The 1948 Lincoln Continental came out of the factory with a twelve cylinder 292 cubic inch L-head engine with hydraulic valve lifters. History shows that the 1948 Lincoln Continental had the last V-12 engine built by an American automaker. The car is recognized today as a Full Classic.
Brakes are Bendix hydraulic drums.
This Lincoln Continental's wheelbase comes in at 125.0 inches, it's overall length is 218.7 inches, it's width is 77.35 inches and it's height 67.125 inches.
The car's weight ranged from about 3,900  to 4,200 lbs with a 19.5 gallon fuel tank.

Total Lincoln car production for the 1948 model year was 43,900 vehicles.
Two additional AutoMuseumOnline articles you may enjoy are on the links below...
The New Post War Design 1949 Cadillac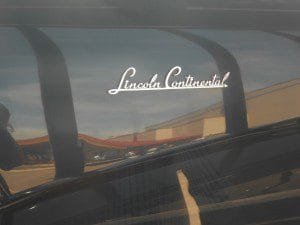 Today's 1948 Lincoln Continental Collector's Cars
The 1948 Lincoln Continental given to Babe Ruth sold new in that year for about $5,000. To put this in perspective, a 1948 Plymouth Deluxe Two Door sold new for about $1,400 and a 1948 Ford V-8 Super Deluxe Sportsman may have sold for around $2,000.
As of this writing, auction prices for a finely restored mint condition 1948 Lincoln Continental might be in the range of $50,000 to $70,000.
(Article and photos copyright 2013 AutoMuseumOnline. Babe Ruth 1918 photo from the public domain)