WALLACE WYSS is a native of Detroit but moved to California in 1969 to
continue his work as an automotive writer. Before that, he had been in
advertising, writing ads for Chevrolet in the original "muscle car"
era of the '60s. In 2007 he made his first painting and is now
transitioning into the world of fine art. He gave Rick Bartholomew, a
Riverside graphics consultant, this exclusive interview...
Q. As a writer, what magazines
did you work for?
Wyss: I started on Motor Trend,
then went to CAR LIFE, and then
when that magazine went bust,
rejoined Motor Trend in 1969 and
stayed until 1972. Then
decadeslater I contributed to Car and Driver. Plus I wrote for magazines in many
countries, from Japan to Australia.
Q. What about your books?
Wyss: A dozen so far, including three on Ferrari, alas all out of
print. The last was a novel called Ferrari Hunters, which I still hope
to find a publisher for.
Q. During all this time you didn't know you were an artist?
Wyss: I started in art in college but immediately switched to writing
when a summer intern program was opened offering a job in advertising
copywriting. After graduation I first wrote Oldsmobile ads then
switched to the agency with the Chevrolet account.
Q. So you made your first painting when?
Wyss: I did it purely as a promotional effort. Back in 2007. I went
to the Beverly Hills car show on Rodeo Drive with the idea of
promoting my book on Shelby which had just come out. I brought along
an oil painting I had made of Carroll Shelby when he was an
up-and-coming race driver and a small picture of the painting. I sold
the book to a publisher I met there and when I showed him the picture
of the painting, he asked "Where's the painting?" and I said "In my
car, six blocks away." He said "Go get it, you sold that too." On the
long walk back, I thought "If they want my art, I'll be an artist."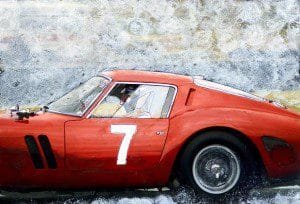 Q. Why are Ferraris so frequently
in your work?
Wyss: I think consistently as an
automaker they make the most
exciting Cars-I mean you go back to the Fifties all the way to the very
latestcalled 'La Ferrari.'.You see newcomers come along like McLaren but when all is said
and done, Ferrari has the tradition behind it influencing even their latest designs.
Q. What are your favorite Ferrari models?
Wyss: There's favorites in each era. I can't narrow it down to
ten cars. And some I only like them from certain views. I would say
the Giugiaro designed short wheelbase 250GT by Bertone is the best in
side view only. The short wheelbase 250GT by Pininfarina has a
pugnacious rear view, the 250GTO is good from almost all angles. Even up to the modern
era, the new 'La Ferrari' looks like it will be a beautiful car but I haven't actually seen it in
person.
Q. You make it a practice to work from pictures?
Wyss: Yes. I admire the skills of those artists who can start with a raw sheet of paper but
in the past, I have tried to draw a car from scratch and you need so much equipment like
elipse guides to do the wheels and such that I just don't have the patience. I just walk out
in my office and peruse my collection of 10,000 photos to see if I have anything I can base
the painting on.
Q. Do you do a lot of research on your period paintings?
Wyss: A lot of car art collectors are bugs on accuracy. You have to be because some
people are painting their race car to look like a famous car or doing model cars they want
to be correct So I have to make some effort to make sure the color of the car is right if it's
a race car. For instance I painted a '63 Cobra with a hardtop at LeMans but made the car
red. Fortunately I hadn't ordered any prints before I checked a few websites and found out
the colors of the two Cobras at LeMans that year were light green and white. So I have to
repaint the car to get the color right before I make any reproductions.
Q. Would you be pleased with the title "super-realist?"
Wyss: I think another term for that style which is now in vogue is "hyper-realism." That
adjective would only apply to some of my work, for instance my Gulf GT40 at Monterey. It's
hard to tell the background in that painting from a photograph. But other times , when I see
an exciting car and manage to get a shot off, there is a problem with the background, say
a 1995 truck in back of a P3/4. I will either blank out the background in white or render it in
dark shadows so as not to distract from the car. Yet not every painting has this abstracted
background. I am still searching for a style I can call my own.
Q. When you paint a race car that is in modern vintage racing, do you
make the whole painting "period?"
Wyss: No, only a few depict racing in the original era of the car since I wasn't around
racetracks in the Fifties and didn't shoot photos at the races I went to in the Sixties. Most
are from vintageracing. The problem with vintage racing is that, in the open cars, the
owner might have spent hundreds of thousands making his car 100% authentic in
appearance, but as soon as he puts on that modern full face helmet he destroys
the"period" look of my photo. I haven't decided whether to paint old style helmets on the
drivers or not. If I do, then I can't label the event I saw it at because if you were there you
know they weren't using vintage helmets.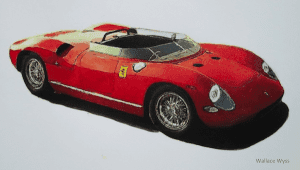 Q. What's your favorite media?
Wyss: I started doing watercolors but
grew frustrated with the transparency
so I switched to acrylics which can be
both transparent and opaque depending on how much water you thin them out with. Some
of my works are collages, in that I will cut out parts of other paintings I've already done and
glue them into a new painting so those would have to be called "mixed media." I don't sell
the originals, though, only the prints, so it's difficult to tell from the print if the original was
all one sheet or whether it's from a collage.
Q. Who are your favorite automotive artists?
Wyss: Just about everyone that's in a very exclusive group called the "Automotive Fine
Arts Society." I think Ken Dallison is the best in watercolors, then I like Jay Koka for his
willingness to change styles, and Harold Cleworth for his paintings that look stronger
froma distance—a result of his early training doing billboards--and then there's Nicola
Wood for her subtleties in her Cadillac paintings. I would say the AFAS show at Pebble
Beach is my favorite day of the year.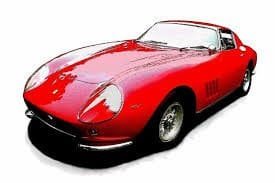 Q. When you shoot pictures for
reference, what camera and lens
would you recommend?
Wyss: I abandoned film cameras a
couple of years ago but still am getting
used to digital.
One problem is that the lens on my Canon is a bit wide angle. The closer you get to a car
the more dramatic the car looks but then the painting isn't wide enough to become a
gallery-wrapped canvas (where some of the image wraps around the back). And I've lost
the telephoto advantage I had with a film SLR but eventually I will get a digital SLR and be
able to shoot telephoto again.
Q Is there a specific time of day you like to shoot?
I used to favor mornings but now, because of fog, I prefer late afternoon particularly if it is a
sunny day. The problem is, most car events –like concours d'elegance --end too early say
at 4:30 pm while the light is just starting to get good at 6:30 pm, when the show is long
over! So the opposite tack is to go there in the morning but at some shows, it's all foggy at
6:30 a.m.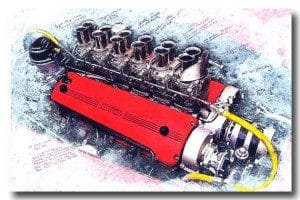 Q. Where do you see car art going
value-wise?
Wyss: Except for a handful of artists
like Geo Hamm, in the world of fine
art, any painting depicting a car used
to be shunted off to a back tributary
as if somehow depicting a motorcar made the painting "unworthy." Then in 2007 Jack
Vettriano's painting of Malcolm Campbell's Bluebird at Bonneville land speed car sold for
over 600,000 British pounds Sterling. I think that sale had some impact in the fine arts
community, where the dealers who had a prejudiced view of automotive art had to readjust
their view, and realize that depictions of cars are not just for who they envision as
uncultured car people. There are many connoisseurs of the fine arts who also collect
automobiles like Ralph Lauren who also collect car art. I predict there will be more almost
million dollar sales of individual examples of automotive art in the next decade and at that
time finally automotive artists will get some respect.
Q. What about commissions?
Wyss: I recently did a 16" x 20" on canvas of a 365GT 2 –plus-2 for an owner. Before that I
was commissioned to do a 275GTB. So I am open to commissions for paintings on
canvas.
Q. Where can we find your work?
Wyss: My big event of the year is at "Monterey Car week." I will have a booth at Concorso
Italiano at the Blackhorse golf course in Seaside on Saturday where I will have both
canvases and prints on watercolour paper. I also have a dealer—Albaco—who stocks my
prints on paper.
Q. Where can clients reach you?
Wyss: I am reachable at my e-mail at Photojournalistpro@gmail.com
(Artwork and all images Copyright Wallace Wyss)