The automobile featured in this article is a beautiful original 1936 Ford Sedan Convertible. These are rare models considering only around 5,500 were produced. Everything on this automobile is original including the V-8 which was one of the first series of V-8's built by Ford.
There were both phaetons and convertibles produced. The difference between the two is that a phaeton has no sliding windows on the doors. It's an open automobile without weather protection. A convertible is a car with sliding windows and with a folding top.
An interesting side note is that President Franklin Roosevelt owned a 1936 Ford Phaeton which had hand controls allowing him to drive the vehicle. The car has been on display for many decades and is still on display at the Franklin D. Roosevelt Presidential Library and Museum located at 4078 Albany Post Rd., Hyde Park, NY.
The 1936 Ford
The 1936 Ford was basically similar to the 35 model with some changes. Lines were more rounded which included a new grille This was an inverted pentagonal grille with all-vertical bars beneath a prominent hood and three horizontal chrome side strips. A concealed horn, long a prominent part of the Ford's design, also brought the car into modern times. The engine was moved forward several inches, and the body was 5.5 inches wider. The automobile looked more stylish.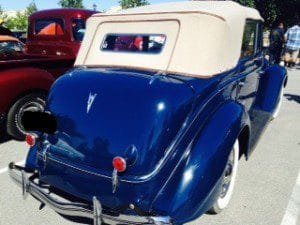 The early V-8 engine years at Ford marked the era of design and power improvements not seen at the company until that time.
The 1930's and the Great Depression weighed heavily on the auto industry and this of course included Ford. Henry Ford lowered worker's wages and laid off some.Several luxury automakers didn't even survive the 1930's with Auburn being  a good example.
Unions tried to organize Ford workers which led to strikes and violence. A union contract was not to come until 1941. Improvements were made to Ford automobiles during the 30's which kept it competitive with General Motors had been known to be a bit quicker than Ford with improvements.
When 1936 opened up, Ford Motor found itself in third place in sales behind both GM and Chrysler. Also that year, Ford reached total company production of it's twenty millionth vehicle since the company was formed. Out of that amount, 15 million vehicles had been Model T's.
1936 Ford Sedan Convertible Specifications
The 36 Ford was built with a 221 Cubic Inch Flathead V-8 that was rated at 85 horsepower. This was an engine upgrade new for 1936.
The gearbox was a three speed manual that could be switched into a six speed.
Brakes consisted of four wheel hydraulic actuated drums.
The Convertible Sedan featured in this article has a full top with roll-up windows and a removable center post between the side windows. The post would typically be removed when the convertible top was down. This design allowed all-weather protection and eliminated cold drafts that were felt in traditional phaeton and touring sedan car styles.
Total Ford production for the 1936 models were 930,700 vehicles. Out of that figure , production for the 1936 Sedan Convertible totaled 5,600. If you on one of these restored models today you have a valuable automobile.
New car prices for the Ford models in 1936 ranged between $550 and $750. If you compare these prices to those before the 1930'd you will see how large a shadow the Great Depression cast over the American automobile industry.
See these additional Auto Museum Online articles on the links below...
1926 Ford Model TT Half Ton Pickup
1936 Auburn Model 852 Speedster
1922 Buick Five Passenger Sedan
Where to Find Serial Numbers on Classic and Vintage Cars and Trucks
Excellent reference materials for the 1936 Ford includes...The 1935-1936 Ford Book Compiled by the early V8 Club of America...The V-8 Affair by Ray Miller...Ford Motor Company Archives.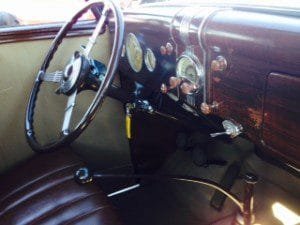 1936 Ford Collector Car Values
Any of the Ford automobiles produced for the 1936 model year are valuable collector cars. Some of the fully restored 1936 Ford models have relatively hefty price tags today. As mentioned above, the 36 Ford Sedan Convertibles are rare with relatively few built.
The 1936 Ford Woody Wagon likely will have a $100,000 asking price. Sedans and coupes in similar conditions will likely have $40,000 to $80,000 + price tags.
(Article and photos copyright 2015 Auto Museum Online)