When the 1954 Chevrolet Corvette made it's debut, many thought that this was America's first sports car. The fiberglass bodied Chevy Corvette was a different kind of car and eye catching at that. Earlier in the 1950's there were two other automobiles introduced that also were American sports cars although none would last and certainly not attain the iconic place in history that the Chevy Corvette earned.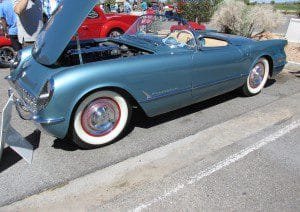 The 1954 Chevrolet Corvette featured in this article is an original. It is one of only 300 painted in Pennant Blue with a Beige interior. The Corvette has no roll up windows or outside door handles.
Two Early 1950's Sports Cars
One of those two were the Kaiser-Darrin. This car was actually the America's first fiberglass car and one that hit the market about a month before the Corvette. The car was designed by famed designer Howard Darrin and built by Kaiser Motors. Four hundred and fifty were produced but the brand faltered shortly after as part of Kaiser's financial problems.
The other American sports car was the Nash-Healy which was produced between 1951 and 1954. While the two seater was built in the England,the Nash-Kalvinator Corporation handled sales and marketing. The car had a Nash drivetrain but a European chassis. The name Healey refers to British automaker Donald Healey who collaborated with Nash to bring the car to market. The Nash-Healey car came to an end in America during AMC's acquisition of Nash in 1954.
The 1954 Chevy Corvette Changes the Playing Field
As many know, the success of the 1954 Chevrolet Corvette was dubious at best. The Corvette actually started being produced in June of 1953 (only 300 1953 Corvettes were built and all were convertibles) after the car's rave reviews at the GM Motorama in New York City that January. This was quite a milestone in as much as here was a unique two seater being built and sold by America's largest automaker. It would also be the catalyst for Ford Motor to come out with their Thunderbird.
This new fiberglass designed Corvette show car caught the eye of automotive reporters as well as the public. GM knew they came across with a car with unlimited potential. Production was rushed and the car was in production a mere six months later.
Beginning in June 1953 and straight through the 1954 model year General Motors built a snazzy two seat sports car and put a six cylinder engine under the hood and an automatic transmission under the body.
Fixing the Problem
GM management projected sales of 10,000 1954 Corvettes and only 3,000 were actually sold. There was more than one manager calling for it's cancellation. The real problem is that the Corvette came out about a year too early. The small block V-8 wasn't ready for this model year and in it's place was a 235 cubic inch Blue Flame six. The only available transmission for the 1954 Corvette was a two speed Powerglide automatic. The result was that you had a stylish low center of gravity sports car with an engine and trans better suited to a sedan. While carburetor adjustments would allow the 235 six to put out more horsepower than the standard 235, it wasn't enough.
After lackluster 1954 model year sales GM management came to the conclusion that "power" was the problem. There's an old saying that if a car is designed to look fast it needs to be fast. Beginning with the 1955 Chevy Corvette that problem would be solved.
1954 Chevrolet Corvette Styling
The Chevrolet Corvette has been referred to as Harley Earl's dream car. Earl was design chief at GM. Body construction was all fiberglass and the low center of gravity for this two seater made for great handling. The Corvette had a toothy grille, twin pod rear fenders and "rocketship" taillights.
1954 Chevrolet Corvette Specifications
As mentioned above, the first Chevy Corvettes (both 1953 and 1954) came with a 235 cubic inch Inline six. Chevy juiced up the horsepower a bit with three carburetors. This allowed for 150 horsepower. When the V-8 was added in 1955 only about a dozen sixes were built that year. Everyone wanted the eights.
The transmission offered was a simple two speed Powerglide automatic. A three speed manual transmission was finally offered late in the 1955 model year.
This first generation Corvette brakes featured four wheel hydraulic drums. Front suspension were independent coil springs with upper and lower A arms. Rear suspension was live axle with semi elliptic leaf springs.
The 1954 Chevrolet Corvette wheelbase was 102.0 inches. The length was 167.0 inches and the width 72.2 inches. Overall height was 51.3 inches. The Corvette's weight came in at about 2,675 lbs.
The 1954 Chevy Corvette sold new in a range from about $2,800 to $3,500.
All 1954 Chevy Corvettes were built at Chevy's St. Louis Missouri plant. Total 1954 Corvette production was 3,640 vehicles. It's thought that just under 3,000 vehicles were actually sold. As mentioned earlier, sales were disappointing to say the least. As an example, for the 1955 model year and the new small block V-8, and in spite of the manual transmission being offered late in the year, Corvette production was about 23,500 vehicles.
Compare the 1954 Chevy Corvette to cars on additional AutoMuseumOnline articles linked below...
A Prized Collector Car
Both the 1953 and the 1954 Chevy Corvette is a prized collector car and their value has appreciated greatly. In a sense these first generation Chevy Corvettes are a time capsule of history, They showcase an era when American automakers firmly embraced the sports car concept and in a large part to compete against European models.
The 1953 model year had about 350 cars built and the 1954's about 3,000. These are rare collector cars and those originals in museum type condition will most certainly have a six figure price tag. Replicas are also on the market, some priced at $50,000 plus. That alone is a lot of money but only a fraction of what an original 1953 or 1954 Chevrolet Corvette will go for. You might see originals at $400,000 or more.
(Article and photos copyright 2013 AutoMuseumOnline)