The Ford Motor Company spent a lot of money promoting their 1948 vehicles although there was very little difference compared to the 1947's and 1947 models had just a few cosmetic changes from 1946.  Advertising for the 1948 models however was large but what would be larger was what would occur in the middle of 1948.
Ford had two model designations for their 1948 automobiles. These were model 87HA and 89A. These were the Deluxe and Super Deluxe. Both models could be equipped with the Ford standard six and V-8 engines. The car featured in our article is the 1948 Ford Super Deluxe Eight Convertible.
Ford After World War Two
Automobiles sold quite well after the war because of pent up demand. Immediately after World War Two cars really didn't have to have new improvements to sell. Ford Motor Company's production exceeded 429,000 vehicles in 1947 and 248,000 in 1948. 1948 production ended in June of 1948. Production on the 1948 models ended sooner than normal because the 1949 model was ready to be produced. The 49 Ford had all new post war styling and went in production in June of 48.
The Super Deluxe Models
Prior to 1941 Ford offered the Standard and Deluxe models. Beginning in 1941 there was the Special, Deluxe and Super Deluxe offered. There was a reason for this and that was sales.Sales had been lagging for years.
Beginning in 1938 Chevrolet had outsold Ford and this continued into the war shortened 1942 model year. This most likely was the reason that Henry Ford finally offered hydraulic brakes in his 1939 models. Changes such as these were often the result of Edsel Ford prodding his father Henry. By 1941, and with the addition of the new model line, Ford cars were finally catching up with it's major competitor.
Ford Motor Company total production for the 1948 model year was 430,200 units.Out of that figure there were only 12,033 convertibles built. Coupes and Sedans were fairly equal with about 71,000 of each produced. The lowest produced model was the Sportsman Convertibles at only 28 units.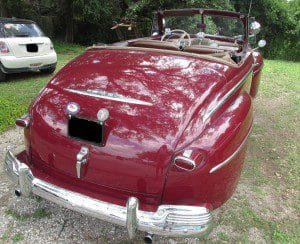 1948 Ford Super Deluxe Specifications
The 1948 Ford Super Deluxe was offered with either a six or eight cylinder engine. The six was a 225 cubic inch straight six delivering 95 horsepower.
The eight was a 239 cubic inch V-8 delivering 100 horsepower.
Transmission was a three speed manual.
Dimensions included a wheelbase of 114.0 inches. The overall length was 198.2 inches, the width 73.3 inches. Vehicle curb weight was 3,066 lbs for the V-8 and about 30 lbs less for the six.
You may enjoy the AutoMuseumOnline articles on the links below...
1948 Pontiac Silver Streak Convertible
A Finely Restored 1940 Buick Sports Coupe
The Very Collectible 1948 Ford's
1948 was a milestone year for Ford in as much as these models would be the last of the post war models which were derived from pre war designs. The 1949 Ford's featured the new Ford post war design and as mentioned above went into production in June of 1948.
The 1948 Ford's as of this writing remain highly collectible with asking prices spread over a wide range. The 1948 Super Deluxe Convertible is probably the rarest of the model year (not counting the sportsman convertible) and will typically get the higher sales price. For all models the degree of restoration and overall condition will obviously dictate price.
A 1948 Ford Super Deluxe Convertible might be priced in the $40,000 to $50,000 plus range. The very rare Sportsman Convertible has been seen with asking prices approaching $200,000. Super Deluxe Coupes and Sedans have been seen offered in the $14,000 to $20,000 plus range depending on degree of restoration and overall mechanical condition.
(Article and photos copyright 2014 AutoMuseumOnline)