The 1948 Lincoln Continental was a luxury car built by the Lincoln Division of the Ford Motor Company. The Lincoln Continental brand of automobile has always been thought of as the top of the line in luxury and prestige. This automobile of course did compete directly against General Motor's Cadillac and Chrysler's Imperial. The first Lincoln Continental introduced to the public in 1940 was available as a coupe and cabriolet.
As the story goes, the first Lincoln Continental was a one-off build expressly for Edsel Ford and to be used for an upcoming vacation. With that being said, most auto historians believe that this car was planned all along to go into general production which it did. The basis for the design was taken from the Lincoln Zephyr blueprints with some changes. Design credit went to Bob Gregorie, head stylist at the Ford Motor Company.
The automobile featured in this article is a 1948 Lincoln Continental Mark I Cabriolet V-12. This car is from the first generation of Lincoln Continentals which were produced from 1939-1948. These cars were considered some of the very best built in their era. To own one was expensive but to their buyers it was an investment in luxury transportation. Two important things to note about the 1948 Lincoln Continental are that this was the last year for the Lincoln V-12 engine and the Continental model itself would not be seen again until the 1956 model year. In 1956 the automobile would be named the Continental Mark II.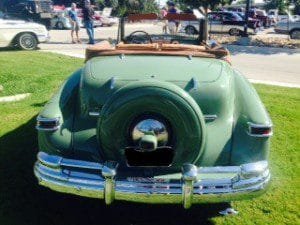 Lincoln Continental Early Years and the War
The models from 1939 through 1941 were generally of the same design with few changes. The 1942 Lincoln Continental did receive design changes which largely consisted of squared fenders and a new grille. The 42 models of course had a limited production run because of the U.S. entrance into World War Two. All civilian auto manufacturing was suspended in February of 1942. The Lincoln Continental would not be seen again until the 1946 model was introduced. It took until the 1947 model year for production to return to more normal levels.
The Lincoln Zephyr V-12
Our 1948 Lincoln Continental was powered by a 306 cubic inch Lincoln Zephyr V-12. This engine actually was used for about one month for the 1942 model before production was cut off. The engine was reintroduced for a short time beginning with the 1946 model year but was changed to a 292 cubic inch version during that production run. The 306 versions were having problems with too thin cylinder walls. The 292's would be used from that point up through the 1948 Lincoln Continental models.
1948 Lincoln Continental Specifications
As mentioned above, the 1948 Lincoln Continental was built with a Lincoln 292 V-12 L-Head engine. Horsepower was rated at 125.
Available transmission was a three speed manual with overdrive and a three speed automatic.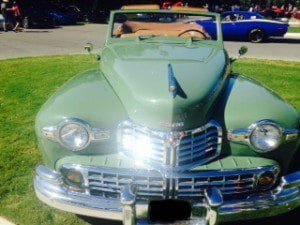 Dimensions for this model included a wheelbase of 125.0 inches, an overall length of 219.6 inches, a width of 77.8 inches and a height of 63.0 inches. Curb weight came in at 4,320 lbs.
Total 1948 Lincoln production was 43,950 vehicles. Out of that number there were 1,300 Mark I Continental's produced and out of that number there were only 452 convertible Continental models built.
See these additional Auto Museum Online articles on the links below...
A Very Rare 1936 Ford Sedan Convertible
Nicely Restored 1926 Ford Model TT Pickup
Lincoln Collectible Cars
Vintage Lincoln Continentals and Lincoln Zephyrs are both popular collector cars. Lincoln Continentals are designated as Full Classics by the Classic Car Club of America which helps keep their collector value up.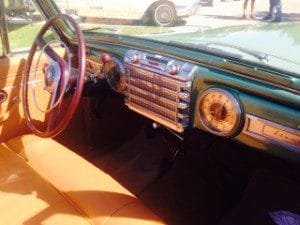 There are car clubs for Lincoln Continental enthusiasts including the Lincoln & Continental Owners Club. For those taking on the challenge of restoring one of these vintage models, parts are not necessarily hard to find. The older the model the more difficult it may be but there are several outlets found on the internet.
As of this writing, values for the 1948 Lincoln Continental Mark I are reasonably solid. With all things being equal, the convertibles are priced much above the coupes. Collector car prices at this time have the mint condition cabriolets valued at a range of about $85,000 to $110,000. Values for daily drivers with visible flaws might be priced in the $30,000 to $40,000 range. 1948 Lincoln Continental Coupes in like condition are valued at roughly 60 percent of that of the cabriolets.
(Article and photos copyright 2015 Auto Museum Online)