The Chevrolet Monte Carlo was a two door luxury car produced from 1970 through the 2007 model year. The Monte Carlo however was discontinued after 1988 but the nameplate was revived in 1995.
The race car version of the Chevy Monte Carlo was a strong competitor with many wins  on the NASCAR stock car circuit.
Even with the seven year production hiatus, the Chevy Monte Carlo obviously had a very long run lasting through six generations. The Chevy Monte Carlo came into production during the muscle car era, prior to the federal regulations on environment and safety. Right from the start the Chevrolet Monte Carlo offered both personal luxury and performance and it promised to be a winner for Chevrolet.
The 1977 Second Generation Chevy Monte Carlo
Our featured automobile is the 1977 Chevy Monte Carlo. Chevrolet marketed their 1977 model as a luxury car with a great many advantages. Long service intervals was one. Chevy also touted the Monte Carlo as having several accident prevention features such as side marker lights, better rear view mirror widths, double master cylinder brakes and more.
A Mid Size Bigger than a Full Size
The 1977 Chevrolet Monte Carlo was also touted for it's size and comfort.  The 1977  Monte Carlo was considered a midsize automobile. With that being said, the car was larger in all dimensions than the full-size Caprice and Impala. Blame the difference on the oil embargo which cut down their size. The oil embargo would hit the Chevy Monte Carlo for the 1978 model year.
Few Changes for 1977
The 1977 Chevy Monte Carlo was in it's eight model year as a personal luxury car. Sales were going well. The Monte Carlo looked pretty good. Buyers had the choice of a base coupe or a Landau. They were stylish and sleek. In addition to that they had amenities that would bring in buyers of both family cars and sports/muscle car enthusiasts. Not a bad appeal base.
There were no significant design change for the 1977 Monte Carlo. Changes that were made included grilles that were now divided into small segments..a new hood ornament which now carried the Monte Carlo crest. Widened taillights sat lower on the rear panel and were horizontally segmented. Options for 1977 included a padded vinyl roof, sport mirrors, Turbine II wheels, and Rally wheels. The Landau coupes had pinstriping and a vinyl half-roof.
1977 Chevrolet Monte Carlo Specifications
For this model year there was a choice of two engines for the Monte Carlo. These were a 305 cubic inch V-8 delivering 145 HP. The other a Turbo-Fire 350 cubic inch V-8 putting out 170 HP. There had been a 400 cubic inch V-8 option but this was dropped for the 1977 models.
For 1977 the base engine was a 305. The 350 was available in either a two or four barrel option. A V-6 was added for the 1978 model year.
Transmission was a three speed Turbo Hydra-Matic.  In 1977 the Turbo automatic was standard equipment. A four speed manual was available.
Brakes were front disc and rear drum.
Dimensions include a wheelbase of 116.0 inches..an overall length of 210.4 inches..a width of 78.6 inches..a height of 52.7 inches. Curb weight averaged about 4,000 lbs.
Total 1977 Chevrolet Monte Carlo production was 411,000 units. This was about 65,000 more units than in 1976.
The Chevrolet Monte Carlo was eventually discontinued after the 2007 model year. As with some other models that started out as performance based vehicles, they were eventually changed to conform to fuel economy standards. Design also suffered as more resources were channeled to fuel efficiency goals.
You may enjoy the additional Auto Museum Online articles on the links below...
1955 Chevrolet Nomad Station Wagon
Decoded Classic Car Serial Numbers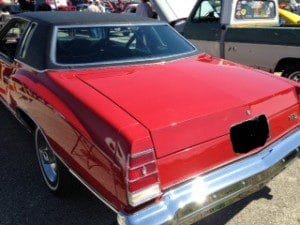 Chevrolet Monte Carlo Collector Cars
Without a doubt the early first generation Chevy Monte Carlo is the car of first choice for auto enthusiasts. The Monte Carlo is not an expensive car. Current valuations for top condition restored  1970 (first year) models can range from approximately $18,000 to $22,000. The same appears to hold true for the 1971 model.
Starting with 1973, the Chevy Monte Carlo valuations start coming down to the $12,000 to $14,000 range. This again are for models that are in superb condition and most likely fully restored originals.
(Article and photos copyright Auto Museum Online)