Chevrolet introduced the Camaro model in the fall of 1966 as a 1967 model. This car was designed and built as a direct answer to the popular Ford Mustang that came out a few years earlier. The car featured in this article is a 1973 Chevy Camaro Z/28 RS.
The Chevrolet Camaro's / First and Second Generations
In a way, the first generation Camaro's should not have been the design success they were. This is primarily because they were rushed to market.
Interestingly enough, when the Camaro debuted, it essentially had the same specs as the Ford Mustang. Chevrolet answered the Mustang with virtually the same formula. This included the same chassis, wheelbase and powertrain. About as close as you could get.
Following is a comparison between the 69 Camaro and the 69 Mustang..Wheelbase- Camaro 108.1 inches...Mustang 108.0 inches. Overall length- Camaro 186.0 inches...Mustang 183.6 inches. Weight- Camaro about 2,900 lbs on average…Mustang 2,750 lbs on average. Engines- Camaro's two highest performance engines were the 396 and the 427 cubic inch V-8′s…Mustang offered a variety of engines, the two largest being a 390 and a 428 Cobra Jet. The Ford Mustang that year also had a 429 cubic inch Boss 429 which was a rare engine.
The Chevy Camaro followed the long hood short deck Mustang formula but in a swoopier fashion.The first generation Camaro offered a wide range of engine choices and a long list of available options. One example was the 1967 396 cubic inch "big block" convertible.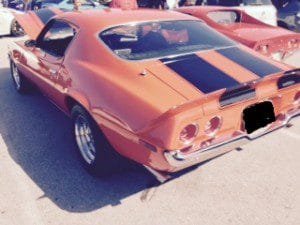 The 1973 Chevy Camaro was a second generation Camaro. Second generations Camaro's starting in 1970 had an entirely new body design.There was much more time for design planning on the 1970 Camaro. The second generation models had their own dedicated chassis.
Our featured vehicle comes with three option packages. This includes the Rally Sport split bumper nose...the LT luxury touring package...and the Z/28 special performance package. An interesting observation is that the second generation Camaro was not rushed to market like the first generation model which needed to hit the showrooms fast to compete against the Ford Mustang.
The 1973 Chevrolet Camaro continued to drop in power and performance. This was the case with many automobiles during the 1970's primarily due to new emission control and safety standards. Impact absorbing front bumpers were added per the new safety regulations. Use of SAE net horsepower numbers also lowered published HP ratings.
The SuperSport (SS) trim was no longer offered but a new LT option was made available. The LT package however was focused on internal luxury rather than performance. What the LT package offered was a more luxurious, quieter interior, full instrumentation, Rallye styled wheels, "hidden" wipers, sport mirrors and variable-ratio steering plus some other upgrades.available upgrades.

1973 Chevrolet Camaro Z/28 Specifications
The engine on our featured model is a 350 cubic inch V-8. Horsepower rated at 245. The Z/28 was rated at 6.7 seconds on the Zero to 60. The quarter mile at 15.2 seconds. For 1973 the big block 396 cubic inch engine was no longer available.
Transmission is a four speed manual Muncie M 20. Turbo Hydra-Matic 400 was optional.
Brakes are cast-iron front discs with vacuum assist. Rear brakes are 9.5-inch drums.
Dimensions include an overall length of 188.5 inches, a width of 74.4 inches, a height of 49.1 inches and a wheelbase of 108.0 inches. Weight varies depending on options but average weight woukld be about 3275 lbs.
Total 1973 Chevy Camaro production was 96,750 units.
You may also enjoy the Auto Museum Online articles found on the links below...
1955 Chevy Nomad Station Wagon
Second Generation Chevrolet Camaro Collector Valuations
Chevy Camaro muscle cars were and still are very popular among collectors. Any time you speak of Pony Cars which began around the mid 1960's, you have to differentiate between those prior to federal emission and safety regulations and those produced after.
First generation Camaro's are the most coveted models mostly because of the historical aspect and of the horsepower available. In respect to the second generation models, horsepower continued to be trimmed down. The 245 horsepower offered with the 73 Camaro was 10 HP less than the 72 model.
Production was higher for the 73 model primarily due to a worker's strike in Detroit that decimated 72 production. 1972 Chevy Camaro's are obviously more rare and may garner higher valuations.
Current valuations for the 1973 Chevrolet Camaro based on various pricing publications put the Z/28 in a range of about $15,000 TO $29,000 for very good to  great condition models. The 73 coupe models are about one-third less. As a comparison, the 1972 Chevy Camaro Z/28 is currently valued about ten percent higher than the 73's. Coupe models for both years are about the same.
(Article and photos copyright Auto Museum Online)