Volkswagen built and sold the Karmann Ghia between 1955 and 1974. This was VW's offering to the sports car market.
Years after the war the standard of living was increasing at a fast pace and VW executives believed a newly styled car was needed for it's lineup.
They didn't have far to look because in the early 1950's Karmann approached Volkswagen with just such an automobile idea. Karmann had worked previously with VW on the Beetle Cabriolet in 1949 and had good access to company management.
The two seat VW Karmann Ghia received an excellent reception from the public. The car by all means was not a powerhouse in the horsepower department but what it lacked in power it made up with it's smart looks. The automobile featured in this article is a beautiful 1969 Karmann Ghia Convertible.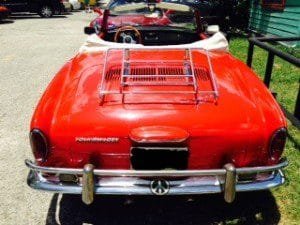 The building and styling of this vehicle was accomplished byKarmann and Ghia. One was the Karmann coach builders of Germany, established in 1901, and the other was Italian design and coach building company Ghia. Together they would create a signature car for Volkswagen in both coupe and convertible styles. The convertibles came out in 1957. Volkswagen's plans were that the Karmann Ghia, much different than their popular and historic Beetle, would emerge as their image model.
A Different Volkswagen
When the Karmann Ghia was designed, VW was selling and marketing only the Beetle and the VW Bus. Luigi Segre of the Ghia Studios is credited with the new sports car styling. This styling was the result of a public that was asking for more out of Volkswagen. Segre is also noted for his styling of the Renault Dauphine as well as a Plymouth Explorer concept car.
Volkswagen took longer than normal with their new post World War Two offering but that was quite understandable considering they had to emerge out of the German wreckage of caused by the war.
The Karmann Ghia's engine was the same as that offered on the VW Beetle, a four cylinder air cooled design. The styling of course was completely new however the Karmann Ghia was built on a Beetle frame. The Karmann Ghia had some advantages over the more boxy Beetle. The Karmann Ghia offered a bit better cornering and better crosswind handling. The more aerodynamic Karmann Ghia was able to go faster than the Beetle by about 9 miles per hour on average.
The car was very appealing. It's swoopy, rounded looks plus excellent construction plus the VW Beetle drivetrain made this little sports car irresistible. The convertible Karmann Ghia's top as built similarly to the Beetle Cabriolet. This meant several layers of insulation and a glass rear window, not plastic.
Between 1955 and 1974, a total of 443,482 VW Karmann Ghias were produced. Out of that number there were about 80,000 convertible models built. During this long production run there were three types of Karmann Ghia's produced. These were the Type 14, Type 34 and the TC.
1969 Karmann Ghia Specifications
The 1969 model Karmann Ghia's rear mounted engine was a 1493 cc flat four delivering 57 horsepower. The first Karmann Ghia came out in 1955 with 36 horsepower.
Transmission was a four speed manual.
Brakes were four wheel drum.
The 1969 Karmann Ghia had a wheelbase of 94.5 inches and an overall outside length of 163.0 inches.  The car's weight came in at approximately 2,300 lbs.
New car price for the 1969 Karmann Ghia ranged from about $3,000 to $3,500.
You may also enjoy the Auto Museum Online articles on the links below...
A Look at the 1958 Studebaker Golden Hawk
See a Restored 1951 Willys Station Wagon
Karmann Ghia Collector Cars
The Karmann Ghia remains a relatively popular collector car. These were popular automobiles during their production run which lasted a very healthy twenty years. That fact alone shows how well these cars were accepted. The cars lasted well having been built on the sturdy VW Beetle frame.
As of this writing, Karmann Ghia's for sale have solid but certainly not outlandish asking prices. We see a fully restored 1966 coupe model in show quality condition with 90,000 miles with a price tag of $27,000. A 1974 final year Karmann Ghia coupe with limited restoration is priced at $12,000.  Another 1974 model with no restoration work is priced at $7,500. Depending on the miles and degree of restoration, if any, the price range can go from $2,000 to $27,000. Fully restored 1957 convertible models may have the highest asking prices.
(Article and photos copyright 2015 Auto Museum Online)