The early Datsun Roadsters were imported to compete with the many thousands of British sports cars that had flooded the U.S. market. The British car invasion of the 1950's was also the main reason behind the development of the Chevy Corvette and Ford Thunderbird.
Nissan / Datsun
Datsun was owned by Nissan since 1934. The automaker that Nissan took over was named DAT Motor Car Company whose roots went all the way back to 1914 when they were selling full size automobiles.Later they produced a small car named Datson before becoming Datsun after Nissan took control.
The first imported Datsuns arrived in the U.S. in 1958. The first sports car produced by Datsun was the 1959 S211. This model delivered only 40 HP and was a very limited production vehicle. Only twenty were built. The following year, Datsun came out with the S212 that produced 50 horsepower. The next year in 1961 horsepower was turned up to 60 using dual carburetors. One similarity of the earliest roadsters were their lower windscreen that gave them a much sleeker and sportier look.
It's important to note that the Datsun sports cars and particularly the 1966 Datsun 1600 Roadster firmly established Datsun as a real player in the U.S. auto market.
The Datsun Fairlady
The Datsun sports car was named the "Fairlady" in Japanese and Australian markets. The Fairlady name was used as a link to the very popular Broadway play.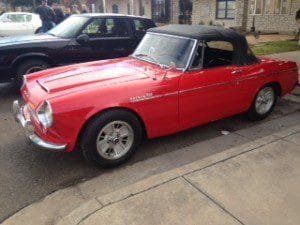 The 1966 Datsun 1600s
The 1966 Datsun 1600 had a 1.6 liter 4 cylinder engine producing 96 HP. The following year Datsun would increase engine size to 2.0 liters with 135 HP.
The early Datsun 1600 Roadsters were called MGB killers and for good reason, not only because of their good sporty looks but also because of their superior performance. It's been said that the Datsun 1600 copied the MGB design however the real story is that the Datsun sports car came out a few months prior to the MGB.
The Datsun roadsters would ultimately lead to the creation of the Z cars.
Datsun Racing
The Datsun 1600 had a degree of racing success. You'll see some of these Datsun 1600 racers today, some being offered for sale. Most of these out there today are the smaller displacement 1500 and 1600 models. The 2000  2.0 liter model didn't become available until mid 1967 and was essentially built for racing with it's two SU carburetors. The 2.0 liter Datsun was produced until 1970 when the first 240 Z car was introduced. The new Z Series became the sports car favorite for decades after replacing this great looking little roadster.
Datsun racing successes include winning the Safari Rally seven times. The Safari Rally takes place in East Africa and began in 1953.
Datsun, active in competition in Japan and elsewhere, entered American racing competition in 1966. That year Datsun raced 1500 and 1600 model roadsters at Vineland, New Jersey and their SPL310 at the Los Angeles County Fair. In 1966 Datsun also began financially supporting a few racing groups. The racing budget increased significantly in 1967 and more racers were becoming involved with Datsun including an ex employee of Carroll Shelby.
The Datsun 1600's did not have as much autocross and SCCA race-winning history as their 2.0 liter relatives nevertheless the 1600's are still fun vehicles in that can give you great performance.
1966 Datsun 1600 Specifications
As mentioned above, the 1966 Datsun 1600 was built with a 1.6 liter Inline 4 cylinder engine delivering a rated 96 HP. Factory rated top speed was 103 MPH. Most will say that the Datsun 1.6 liter engine has a reputation for reliability.
Transmission was a 5 speed manual floor shift with synchromesh on all forward gears.
Brakes included front discs and rear drums.
Suspension included a double wishbone and semi-eliptic leaf springs.
Dimensions include a wheelbase of 89.8 inches..an overall length of 155.6 inches..a width of 58.9 inches..height of 51.6 inches. Curb weight is 2,028 lbs.
Total production of the Datsun 1600 left hand drive vehicles were 26,425 units.
See additional Auto Museum Online articles on the links below...
Beautiful 1941 Cadillac Convertible Coupe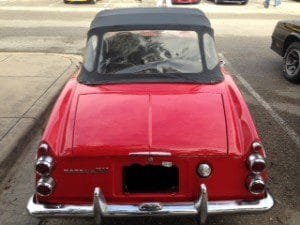 Reference material for this article and excellent books regarding the Datsun sports cars include...Datsun Roadsters: 1960-71 Performance Portfolio by author R.M. Clarke...Datsun Fairlady Roadster to 280 ZX : The Z-Car Story by author Brian Long... The Japanese Auto Industry by Michael Cusamano.
1966 Datsun 1600 Valuations
The Datsun 1600 Roadster is a fun and affordable little sports car. Compared to MG, Fiat and Triumph, however, you'll find that there are less of them available. Accidents and rust have diminished the numbers over the decades. Many will say that Datsun Roadsters were very susceptible to corrosion.
As of this date, prices asked for the Datsun 1600 Roadster range from about $12,000 to $30,000. These would be typical prices for models from very good to perfect condition. Perfect condition vehicles would be those professionally restored in all areas of the automobile.
(Article and photos copyright 2016 Auto Museum Online)