The automobile featured in this article is a great looking restored 1950 Lincoln Four Door Sport Sedan. The 1950 Lincoln model year offered two basic models. These were the Standard Lincoln known as "The Baby Lincoln" and the "Cosmopolitan". A side note is that for the 1949 to 1951 model years Lincoln shared it's basic body style with the Mercury. What was quite different with Lincoln were their sunken headlights. Sunken headlamps was a Lincoln exclusive!
Lincoln Founded in 1908
Lincoln, which would become a major competitor to luxury brands such as Cadillac, Duesenberg, Pierce Arrow and others, was founded in 1917 by Henry M. Leland who had previously been with Cadillac Motors. Ford acquired Lincoln out of receivership in 1923.
The Lincoln and the Continental
The Continental automobile produced by Ford was originally a one-off vehicle. Commissioned in 1938 by Edsel Ford, the Continental was to be used as his personal vehicle. This first Continental was introduced in 1939. With a long, elegant hood covering a powerful but relatively quiet V12, the 1940 Continental looked so modern to noted modern architect Frank Lloyd Wright that he decided to purchase two of them.
Continental itself was a separate division of the Ford Motor Company for a very brief time covering 1956-57. After that time it was marketed as the ultimate Lincoln which was Ford's luxury car to go against GM's Cadillac. All in all, the Continental as a part of Lincoln was produced for 49 years, from 1939 to 1948 with the exception of the war years and from 1958 to 2002 except for the 1981 model year.
As a side note, it's interesting that the 1956 Continental (now it's own Ford Division) sold new for about $90,000 which at that time made it the world's most expensive car. Ford sold their Customline series car for about $2,000. Quite a wide range of offerings from Ford that year.
The Lincoln Models
Models for the 1949 Lincoln and Cosmopolitan included a Convertible, a 2 door Sedan and the 4 door Sport Sedan.
In 1950 & 1951, the Convertible was only available as a Cosmopolitan since the Mercury Convertible had sold extremely well in 1949, while the 2 door Coupe and the 4 door Sedan was available in both series. As a side note, the 1950 custom Lincoln Cosmopolitan 7-passenger limousine was one of nineteen vehicles made for President Harry Truman and the White House. These convertibles had retractable running boards The Lincoln Cosmopolitan Limousines had a 145.0 inch wheelbase.
There were also two limited edition models for 1951, the Lido and the Cosmo Capri. Only about 3,000 of these models were produced each year over the two year run. Because of such low production the cars are quite popular among collectors.
One change for the Lincoln 1950 models was a new dashboard. A major new option for 1950 was a Hydra-Matic transmission purchased from competitor GM.  This transmission would become standard in 1952.
1950 Lincoln Sport Sedan Specifications
The 1950 Lincoln Sedan came with a 337 Cubic Inch Flathead V-8 delivering 152 horsepower.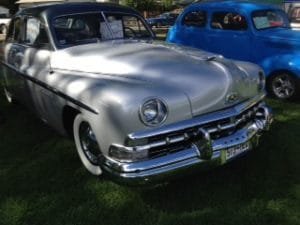 At first only a Three speed manual transmission with optional overdrive was available. As mentioned above, later in the model year a Four Speed Hydra-Matic was available as an option. An interesting note about the Hydra-Matic is that one million of these transmissions had been sold by 1949. In the early 1950s various manufacturers that did not have the resources to develop an their own automatic transmission actually bought Hydra-Matics from GM. This included Lincoln.
The Standard Lincoln had a 121.0 inch wheelbase and the Cosmopolitan model a 125.0 inch wheelbase.
New car price for the 1950 Lincoln was about $2,800. Lincoln production numbers for 1950 were about 28,150 units, down from 1949 totals.
You may also enjoy these additional Auto Museum Online articles found on the links below...
The 1948 Lincoln Continental Convertible
Babe Ruth's 1948 Lincoln Continental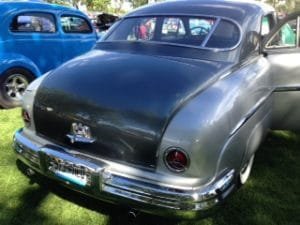 References for this article includes Ford Lincoln Archives..... The Lincoln Motorcar by author Thomas E. Bonsall....The Lincoln Story : The Post War Years by author Thomas E. Bonsall...Lincoln & Continental 1946 -1980 : The Classic Post War Years by author Paul R. Woudenberg.
The Lincoln Collector Cars
All Lincoln automobiles from this era make good collector cars. For one thing, the production numbers for Lincoln were not near to what mainstream less expensive vehicles were. Lincoln's history is filled with highly-sought after American-made luxury classics.
Current high end values for the 1`950 Lincoln Four Door Sports Sedan is in the $33,000 to $36,000 range. This is of course for an excellently restored vehicle inside and out with highly original parts.
(Article and photos copyright Auto Museum Online)