The vehicle featured in this article, the 1950 Ford F-1 Half-Ton Pickup, is among the first generation of Ford F Series Trucks. Introduced in 1948, these F Trucks were built on a truck chassis as opposed to the pre war trucks built on automobile chassis. These F Series Trucks were truly new and different than those built prior to World War Two. These are the first of the F series Ford's which are still in production so many decades later. The trucks gained a lot of followers with it's durability and affordability.
Ford's "Bonus Built" Trucks
In addition to this major change, the 1948 F-1 had several other changes compared to the 1941 model. Changes from the earlier Ford trucks included a one piece windshield, a wider cab and headlights that integrated with the truck's grille. Because of these changes and additions, Ford Motor Company advertising labeled the 1948 F Trucks "Bonus Built".
The term Bonus Built just started as an advertising slogan in 1948 to compete against Chevrolet's truck advertising. It was meant to refer to the many extras now added to Ford trucks. These were supposedly extras you could not always find in other makes. What Ford was doing was to put up a strong challenge to General Motors who had pretty much dominated the trucks market at that time.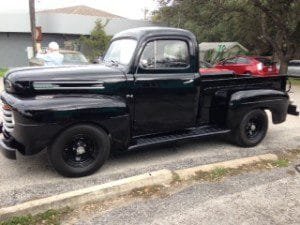 Officially it was used from 1948-50 but it actually came to designate the whole of the '48-'52 body style. The 51s and 52s were connected with the 48-50s because of their very similar body style and design characteristics.
The Ford Bonus Built models not only applied to the F-1 Half Tons but the term was used through the 3 ton F-8.
The Million Dollar Cab
As marketing and advertising goes, Ford touted that it's 1948 F-1 riders sat in a 'Million Dollar Cab". What this implied was that the new F-1 cab provided more comfortable seating than any Ford truck before it. This added comfort of course had something to do with the F-1 being built on it's new truck chassis as mentioned above rather than the old automobile chassis.
1950 Ford F-1 Pickup Specifications
There were engine options available for the first F-1 in 1948  Standard engine for that model and for the 1950 Ford F-1 Half Ton Pickup was a 236 cubic inch Inline Six with a rated 95 horsepower. Also available was a 239 cubic inch V-8 rated at 100 horsepower. All of the engines offered provided more power than any previous Ford truck engine.
Ford advertising made several interesting claims for it's new truck engines for the F-1 models. One alleged customer was quoted as stating that his F-1 cost only 2.5 cents per mile to operate. Ford also claimed up to 14 percent fuel savings. Overall, Ford Motor Company wanted to stress that their new F-1's cost less to operate and they lasted longer.
Transmission as a three speed manual. The F-1 at first had a floor shifter that later changed to a column mounted shifter.
Major changes were ushered in for the F Series trucks beginning with the 1953 model year. The engines were improved, the dimensions were larger and the chassis was improved.
See these additional Auto Museum Online articles on the links below...
The 1950 Chevy 3100 Half Ton Pickup
A Finely Restored 1936 Ford Woodie Wagon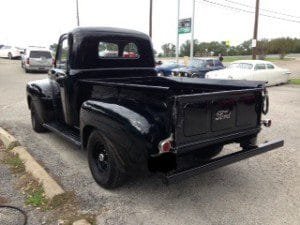 First Generation Ford F-1 Pickup Collector Vehicles
We believe that all first generation Ford F-1 Pickups are popular collector vehicles. As mentioned earlier, the Ford F-1's which debuted in 1948 represent an entirely new truck for Ford compared to what was built before the war in 1941. The first generations Ford F-1's were the first Ford trucks built on a truck chassis rather than on an automobile chassis like the 41 model.
The 1950 Ford Half Ton Pickup, like the one featured in this article, sold new in 1950 for about $1,285. Today's prices asked will of course depend on condition and originality. Various pricing sources as of this date place high values at $25,000 to $45,000. This is a wide range and would apply to those 1950 F-1's that are totally restored and with a large degree of originality.
Some terrific reference material for Ford F Series truck enthusiasts include...The Complete Book of Classic Ford F-Series Pickups: Every Model from 1948-1976 by author Dan Sanchez and...Ford F-Series Pickup Owners Bible 1948-1995 A Guide to Getting the Most From Your F-Series Pickup
by Moses Ludel.
(Article and photos copyright 2015 Auto Museum Online)