Who built the first pickup truck? Auto historians might say it originated in Germany when Gottlieb Daimler invented what he called vehicle no. 42. This automobile provided the first truck concept as a horseless wagon with a 4 hp, 1.1 L, 2 cylinder engine. Daimler's new creation was advertised to pull 3300 pounds, although some disagreed with that claim.
Our featured vehicle in this article is a 1949 GMC Series 100 Half-Ton  5-Window Pickup..
GMC Created Within General Motors
In 1909, GM purchased a truck company to develop General Motors Truck Company, which became GMC Truck. GMC is the brand name for trucks, vans and SUVs sold by General Motors.
GMC as a truck brand was created out of both the Reliance Motor Car Company and the Rapid Motor Vehicle Company within GM. The GMC brand was officially introduced in 1912 at the New York International Auto Show. .In 1912, GM produced about 20,000 trucks.  Prior to the time of unveiling the GMC brand, trucks from GM were produced from the merger of both the Reliance and the Rapid companies. By 1913 all GMC truck production was done at the Rapid Motor Vehicle Company plant in Pontiac, Michigan. By 1916 General Motors created the GMC Truck Division.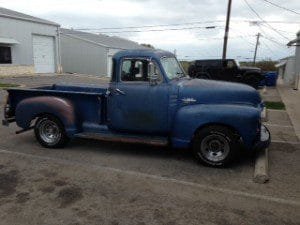 Chevrolet was also building trucks for General Motors and by the year 1920 the Chevrolet brand and the GMC brand trucks looked almost identical except for their grilles. During those years Chevrolet was marketing their trucks to individuals while GMC targeted commercial buyers.
GMC trucks were assembled at the main GMC truck plant in Pontiac, Michigan from 1939 to 1950
GMC trucks were typically sold by GM dealerships that offered Buick, Pontiac or Oldsmobile automobiles. The Chevrolet truck was sold by Chevrolet dealers. While the GMC and Chevrolet trucks may look identical there are differences in the trucks, some significant over the years.
Pickup Trucks Popularity After the War
The US government halted the production of consumer trucks during World War II. GMC however was a main supplier of military vehicles to U.S. and Allied governments. The most outstanding of those vehicles were the GMC model CCKW350 series, 2 ½-ton truck. These trucks delivered 92 hp with GMC 270 cubic inch inline 6-cylinder engines coupled with 5-speed transmissions. Some of the first GMC 6x6s saw action in North Africa against Rommel's German desert army.
Automakers dramatically increased their pickup truck production following World War II.  After the war was over, Chevrolet and GMC set a new trend for pickups by releasing the first ever three-man seat pickup that featured a larger cab, bigger windows, and higher seats, and other manufacturers followed suit. GMC benefited from the increased popularity of pickup trucks after the end of the war. In fact, during the 1950's pickup trucks actually became a status symbol and many are considered in that way today.
1949 GMC Pickup Truck
As far as design is concerned, the 1949 GMC Pickups were largely what was seen on the 48 models. The entire GMC line included 75 different models from 4,600 through 75,000 lbs. There were 224 body and chassis types, powered by a variety of 9 GMC built engines.
Two years prior in 1947 GMC trucks restyled Chevrolet featured the new "Advance Design" cabs. This was a total departure from the prewar truck line. Cabs were larger and more comfortable with a larger glass area, standard dual windshield wipers, improved insulation and much better seats.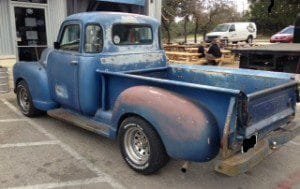 1949 GMC Series 100 Specifications
Standard power plant for the 1949 GMC Series 100 Pickup was a 228 cubic inch Inline Six Cylinder engine. Horsepower was rates at 95. Back in 1939 GMC replaced the Pontiac 223 with their own  228 in 1939. This engine was utilized in the GMC Pickup through the 1953 model year.
Standard transmission on this GMC Pickup was a column mounted three speed manual.
The half-ton models featuring either the Deluxe Cab or standard cab configurations had 116-inch wheelbases. The overall body measured 196.5 inches long.
GMC advertised their 1949 pickup trucks as including heavy duty frames, ball bearing steering, Hydrovac power brakes, synchromesh gear box and adjustable seats. The trucks generally were touted for their strength and durability, especially with heavy loads.
Total GMC Truck production for the 1949 model year was 83,800 units.
You may also be interested in the Auto Museum Online articles on the links below...
Probably the best reference book you can find pertaining to the history of GMC Trucks is...GMC: The First 100 Years by author John Gunnell.
1949 GMC Pickup Truck Collector Values
GMC Pickups from this era are popular collector vehicles and some fully restored examples look absolutely great.
Current valuations for the 1949 GMC Half Ton based on several independent sources range from about $22,000-$27,000. This range would be for a fully restored model in excellent condition inside and out..
(Article and photos copyright 2016 Auto Museum Online)