The 1946 Ford Half Ton Pickup, produced immediately after World War Two, had total production of 78,088.
The New 1946 Ford Pickup
A significant design note regarding Ford Pickup Trucks was that by 1942 the company's cars and trucks had different styling. Prior to that time the passenger cars and trucks shared the same overall design.
Like most auto manufacturers busy re-tooling for post-war consumer production, Ford retained the basic design of the 1942 model year with some minor alterations.
The 1946 designed truck came out with a new heavy grille with horizontal bars. Although there was a new design, parts from the 1942 model Ford trucks were employed in this model which explains many of the similarities between the 42 and 46 models. The truck's hood was widened and had red accents added. Aside from the above, the trucks resembled in many ways the previous pre war model. The 1941 and 1942 models also had many similarities.
The bed of the 46 Ford Pickup had wood planks framed by welded steel. The wood bed had steel strips between each board.
Many options were available on the 1946 Ford Half Ton. These included a windshield wiper on the passenger side...an interior heater and a sliding rear window. There was also a wide selection of paint colors.
Ford Motor Company Pre and Post War
The Ford Motor Company was on somewhat shaky ground prior to World War Two and wasn't in much better shape immediately after the war. Civilian car production was halted in February 1942 due to the U.S. entry into the war. Civilian production officially resumed in July of 1945 after the war's end however some civilian production was resumed earlier in the year.
During the war, Ford Motor Company was very involved in building aircraft bombers, tanks and other war vehicles and armament. Many other things happened with Ford during the war years. Edsel Ford, Henry's son, unexpectedly died in May 1943. Edsel Ford was recognized as Ford's mover and shaker for many years and is credited with many advancements and innovations to Ford automobiles including the introduction of the Mercury brand in the late 30's.
Henry Ford Sr. assumed direct operation of the company after Edsel's death until he retired in 1945 leaving Ford's management to Henry Ford II. The elder Ford would pass away just two years later in 1947. One year later, Ford unveiled the first of the F Series pickups. These were the first entirely new designed trucks since prior to the war. This was all the result of Henry Ford II putting the company on a new path.
Henry Ford II had his work cut out for him. The company had been battling against General Motors for a long time and particularly against the Chevrolet Division. As an example of this tight truck competition between the two large automakers, for the 1941 model year, Chevrolet produced 65,500 total pickups. Ford Motor Company produced some 70,000 units.
1946 Ford Half Ton Pickup Specifications
There were two engines available for buyers of the 1946 Ford Half Ton Pickup.
These were a 226-cubic-inch in-line six cylinder or a 239-cubic-inch V8. The six delivered a rated 90 HP and the V-8 put out 100 HP.
Transmission was a three speed manual on the floor. Brakes were four wheel hydraulic drum.
Suspension included hydraulic double acting shock absorbers.
New truck price for this vehicle in 1946 was about $1.050.
See these additional Auto Museum Online articles on the links below...
1941 Chevrolet Half Ton Pickup
The 1950 First Generation Ford F-1 Pickup

Nicely Restored 1941 Cadillac Convertible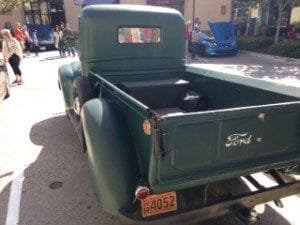 Post War Ford Half Ton Pickup Collector Vehicles
The Ford Pickup featured in this article represents a milestone vehicle. Here was a truck that came out immediately after the end of World War Two that had a basic design similar to the 1941 and 1942 models yet was given some modifications.
Since civilian vehicle design was essentially non existent during the war years, changes for the 1946 Ford truck were quite modest. As mentioned above, the first totally new Ford truck design came out in 1948 with the introduction of the F-1's.
As of this writing, prices asked for 1946 Ford Half Ton Pickups are in a very wide range. Depending on condition, originality and degree of restoration if any, you'll likely find asking prices from $5,000 to $40,000. You'll also likely run across 1946 Ford Half Tons converted into Street Rods.
References included Ford Trucks 1946-1959 Standard Statistics...Classic Ford Trucks...Ford Motor Company Archives.
(Articles and photos copyright Auto Museum Online)