The 1941 Chevrolet Pickup Truck featured in this article is a beautifully restored classic vehicle.
The  year 1941 of course was significant to automobile and truck production because of the World War Two. As we've written in other AutoMuseumOnlinr articles, the U.S. ceased civilian vehicle production in February 1942. This was by order of the federal government. Chevrolet civilian truck production did not begin again until August 1945. When post war truck production resumed, the models offered were very similar to the pre war models. Big changes didn't occur until mis 1947 when Chevy came out with their Advanced Design models.
1942 models that were introduced had a short production run therefore the 1941 models were really the last prior to the U.S. entry into the war. The 1942 models were designed essentially the same as the 41's. It's often been said that the 1941 Chevy trucks were built stronger on purpose with the prospect of war in the air.
Total Chevrolet Pick-Up Truck production for the 1941 model year was 65,500 units, Because of the U.S. entry into World War Two the 1942 Chevy Pick-Up truck production totaled only 23,700. By 1948 Chevy's Pick-Up truck production climbed to over 69,000 units.
An interesting side note is that the federal government did allow Chevy to build a limited number of light trucks in both 1944 and 1945 for essential state side uses.
A Lot of Changes with the 1941 Chevy Truck
The 1941 Chevy Truck models came out with several changes from the previous year. One was that the brand name was not stamped on the tail gate. Wheelbase sizes were also increase. One result was that there was more space in the truck's cab and for the driver, more leg room. The cab seats themselves were upgraded to provide more comfort to both driver and passenger.
The 1941 Chevrolet truck's entire front end: hood, louvers, fenders, bumpers, headlights, parking lights and grille were all new. Although there were some similarities to the passenger car design the trucks were in no way designed as clones.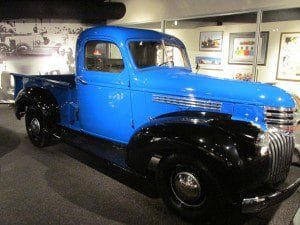 The half-ton 1941 Chevrolet Pickup shown here represents one of the more popular selling truck models in 1941. Although Chevrolet built a wide array of trucks in 1941, both light duty and heavy duty, the light truck category were the truck selling leaders. These included both the half-ton shown here and the three-quarter ton models. The 115.0 inch wheelbase chassis came in pickup, panel, canopy and Suburban models.

The 1941 Chevy Pickup Trucks also came in a wide selection of colors. These included Windsor Blue, Boatswain Blue, Export Blue, Mariner Blue, Apple Green, Brewster Green, Channel Green, Forester Green, Fathom Green, Seacrest Green, Hollywood Tan, Airedale Brown, Circassian Brown, Medium Cream and Sun Beige, Armour Yellow, Omaha Orange, Bordeaux Maroon and Cape Maroon. Compare these to what are offered today. You're not going to be offered these amount of color choices.
Below are links to two additional AutoMuseumOnline photo articles you'll enjoy.
The Classic 1940 Chevy Half Ton
1941 Chevy Half-Ton Pickup Truck Specifications
The 1941 Chevy Half-Ton came with a valve-in-head in-line six cylinder 216.5 cubic inch engine delivering 90 horsepower.
The truck's wheelbase was 115.0 inches and the transmission was a selective synchro-mesh three speed manual. The heavy duty Chevy Trucks came with four speed manual transmissions. The 1941 three-quarter ton Chevy models had a 125.0 inch wheelbase.
The curb weight was just a bit over 3,000 lbs. The 1941 Chevy Half-Ton's had a total length, bumper to bumper, of 195.5 inches.  The truck bed was 78.0 inches in length and 16.5 inches deep. The truck bed width was 48.5 inches.
1941 Chevy Collector's Truck
The 1941 Chevrolet Half-Ton Pickup is a good collector's vehicle. The truck was built strong and it still has good utilitarian uses today. As far as present day values, they obviously can vary quite a lot depending on degree of restoration and the economy but a finely restored 1941 Chevy Half-Ton could fetch a price in the high thirty thousands.
It was reported earlier this year that a 1941 Chevy Half Ton Pickup formerly owned by actor Steve McQueen sold at auction for a bit over $66,000.
(Article and photos copyright AutoMuseumOnline)