The 1940 Buick Special Two Door Sport Coupe is a fine addition to any automobile collection.The custom Buick Coupe featured in this article is a beauty with it's two tone paint scheme, creative designed front grille area, rear fender skirts and ground hugging body.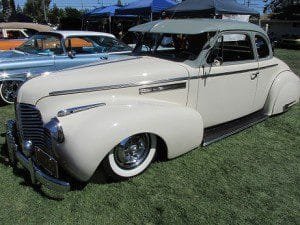 Buick began in 1903 when David Dunbar Buick started the Buick Motor Company in Detroit, Michigan.. Later that same year the company was acquired by James Whiting who moved the Buick operation to Flint . Whiting hired William C. Durant to manage his new auto company.
The Buick badge was considered by many to be the first real automobile success. In fact, at that time it was the largest automaker in America. Durant, with the success of Buick, went on and acquired more companies and in 1908 gave them the name General Motors.
The 1911 Buick was the first built as a completely enclosed American automobile. Buick beat Ford to this milestone achievement.
The 1940 Buick
During the 1930's Buick was an innovative automaker. Their 1939 models had the first turn signals. Also, steering column shift levers were on all 1939 models.
Total 1940 Buick production was 310,995 units. Buick Special production totals that year was 122,974.
1940 Buick Models
There were six model groups in all for 1940. These included the Series 40 Special, the Series 50 Super, the 60 Century, the 70 Roadmaster, the 80 Limited and the 90 Limited.
The Roadmaster was the top of the line luxury model with the 90 Series vehicles often serving as limousines.
The Buick "Special" was the lines entry level model. It's wheelbase was changed several times between 1936 and 1940. It was lengthened, shortened and then lengthened again for 1940.
Another interesting note is that Buick built a wooden body station wagon in 1940 which the company referred to as an "Estate" model. The "Estate" badge was used instead of "Station Wagon". The Estate was offered on the 1940 Super line.
It was one year later with the 1941 models that Buick offered the most complete line up with some 26 different body styles on six model lines. This was quite a big year for Buick because 1942 was a different matter altogether with civilian auto manufacturing suspended in February 1942 because of America's entrance into World War Two.
1940 Buick Sport Coupe Specifications

The 1940 Buick Special came out with a 248 cubic inch inline eight producing 107 horsepower. Original carburetors were either Carter or Stromberg.
Transmission was a three speed manual.
Brakes on the 1940 Buick Sports Coupe were four wheel internal expanding hydraulic.
The five passenger Buick Sports Coupe had a wheelbase of 121.0 inches and was 72.0 inches wide. The overall length came in at 203 15/16th inches.
Front suspension were independent coil springs and the rear were coil springs.
The new car price for the 1940 Buick Special Sport Coupe averaged about $1,000.
See the AutoMuseumOnline articles on the links below...
A Very Rare 1929 Stearns-Knight Luxury Automobile
A Modified 1972 Buick Riviera Boattail
A few good books regarding Buick cars and their history include...The Buick: A Complete History (90th Anniversary Edition) by authors Terry B. Dunham and Lawrence R. Gustin. Also, David Buick's Marvelous Motor Car: The Men and the Automobile that Launched General Motors (Updated 2013) by author Lawrence R. Gustin.
The 1940 Buick Special Sports Coupe Collector Car
All Buick automobiles from these pre World War Two years are highly collectible. The 1940 Buick in particular was one of the major reasons that GM decided to end LaSalle production that year.
While LaSalle was produced by the Cadillac Division, it was the Buick that essentially turned into a LaSalle thus making the LaSalle expendable.
An interesting note for Buick collectors is a list of the top ten collectible Buick's put together by Buick and Haggerty. The list is as follows....
2012 Buick Regal GS
1932 Model 90 sport phaeton
1937 66C Century convertible coupe
1940 Super Model 59 Woody Estate Wagon
1947 Roadmaster Woody Wagon
1949 Roadmaster Convertible
1953 Skylark
1963 Riviera
1970 GSX Stage 1 Hardtop Coupe
1987 GNX
1940 Buick automobiles for sale as of this writing are priced in a range from about $20,000 to $50,000 plus. These are all running vehicles in a wide range of restorations and asking prices will certainly depend on the exact model. There are also non running project vehicles in various conditions priced under $10,000.
(Article and photos copyright 2014 AutoMuseumOnline)