The automobile featured in this article is a fine looking 1939 Ford Deluxe Tudor Sedan. The 1939 Fords were introduced on November 4, 1938.  Ford's designs of the 1930's are iconic to this day for their upscale styling, standard features and high collector interest among automobile enthusiasts.
The 1939 Ford Design
There are automobile enthusiasts who contend that the 1939 Ford Deluxe was among the best looking models the Ford Motor Company ever built.
Design credit for the 1939 Fords go to legendary Ford designer Bob Gregorie along with certain styling touches by Edsel Ford.
Bob Gregorie was a yacht designer turned successful auto designer. Gregorie was named head of Ford's design department in 1935. When he retired from Ford in 1946 he returned to yacht designing. Gregorie had worked closely with Edsel Ford until the younger Ford died unexpectedly in 1943. Edsel Ford's passing eventually ushered in significant management changes at Ford Motor Company and it began Henry Ford's gradual withdrawal from the very company he founded.
The 39 Ford had a relatively long hood that included a low V shaped grille with vertical bars. Each bar has a different curve. Some maintained that the hood and grille looked somewhat like the bow of a boat. This design would last through the 1940 model year until longer and wider bodies came around in 1941.
Ford Deluxe and Standard Models
The 1939 Fords were once again divided into the Deluxe and the slightly cheaper Standard models. Whereas the new 1939 standard Fords looked very much like their previous year counterparts, Deluxe models received a more stylish front end as well as hydraulic brakes that were new for the whole line-up for the year. Model year 1939 would prove to be the last year for the floor shifted manual transmission until the popular Ford Thunderbird of 1955.
In 1939 The Ford Motor Company started using Lockheed type hydraulic brakes on their automobiles for the first time. Prior to 1939 Henry Ford believed that hydraulic brakes were essentially unsafe and was the last automaker to finally employ them. 
The 1939 Fords were once again divided into the Deluxe and the slightly cheaper Standard models.
1939 Ford Deluxe Two Door Sedan Specifications
Engines for the 1939 Ford Deluxe was a 221 cubic inch Flathead V-8.
Transmission was a floor mounted three speed manual.
Suspension was front and rear leaf springs.
Brakes were hydraulic drum.
Additional Auto Museum articles you may be interested in are found on the links below...
1940 Ford Deluxe Convertible Coupe
References for this article included the Ford Motor Company Archives...American Automobile Advertising, 1930-1980 by author Heon Stevenson...The Allure of the Automobile: Driving in Style, 1930-1965 by authors Ronald T. Labaco and Ken Gross.
Fords best selling automobiles for 1939 was the Tudor and Fordor Sedans. 124,866 Standard and 144,333 Deluxe Sedans were built by Ford ranging in price from $680.00 to $745.00. Sedan options included bumper guards, radio, heater, clock, side view mirrors, deluxe hub caps and 16 inch white side wall tires.
Fords largest engine was a 90 horsepower V8 with 221 cubic inch displacement, a bore of 3 1/16 inches, a stroke of stroke, cast iron block and three main bearings. Ninety horsepower engines were used on the Model 91A.
Fords smaller 60 horsepower engine had a displacement of 136 cubic inches, a bore of 2 3/5 inches and a stroke of 3 1/5 inches. They were used on the Ford Model 922A. Both engines were fitted with Stromberg carburetors. All 39 Fords used a sliding gear three speed transmission, single dry plate clutch, shaft drive, 3/4 inch floating gear axle.
Ford built 487,000 vehicles for the 1939 model year. Out of that total 144,300 were Two Door Sedans.
The 1939 Ford Deluxe Collector Car
These vintage Fords have been favored by auto enthusiasts for decades. The 1939 convertible coupe models are considered rare cars. A total of 10,422 of the models were built for 1939. This was during a year that Ford Motor had total production of 487,000 vehicles. The Ford Deluxe was built from 1937 through 1940.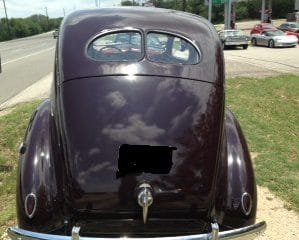 The very rare 1939 Ford Woody Wagon in museum condition has been known to sell at auction for north of $200,000. Total Wagon production in 1939 was only 6,155 vehicles making this a very rare collectible. You may find like condition Deluxe Sedans in the $50,000 to $60,000 range with Deluxe Convertibles garnering somewhat more. In any event, all of the 1939 Ford models that are restored to pristine condition with a high degree original parts are considered high priced vintage collector cars.
(Article and photos copyright 2017 Auto Museum Online)