The beautifully restored automobile featured in this article is a 1937 Imperial Airflow. Airflow models were built by Chrysler from 1934 to 1937. Airflow was the name Chrysler attached to their newly designed streamlined cars. The iconic Air Flows are probably the most Art Deco American cars built. More on this later.
The 1937 Imperial and Other Luxury Automobiles
Chrysler's Imperial model was obviously a luxury automobile during the Depression Era 1930's. Buyers were few in relation to the pre depression years. With that said, prices for luxury automobiles were lowered where they were closing in on the mid priced range models. Both Cadillac and Packard had been building lower priced models. Imperial in 1937 was still somewhat below the Cadillac and Packard standard and what was being offered with the Imperial at it's 1937 price tag was considered a bargain. Large automakers who also sold mid and economy priced vehicles could lower price and still stay in the game. On the other hand, the depression years certainly had their share of bankrupt independent luxury automakers such as Auburn, Pierce Arrow and others.
In 1937 the C-14 Imperial line offered six models. The highest priced model was the convertible with a new car price tag of about $1,395. A great big luxury car, superb in beauty and performance, amazingly priced in the thousand-dollar range was it's allure. If you had a bit over $1,000 during the Great depression you could own an out-and-out luxury car that was relatively economical to buy and drive.  It's said that only 325 of these convertibles were produced so when you see one you'll know it's very rare.
1937 Chrysler Advertising
When you take a look back at an automakers advertising you'll get a good idea of what they thought was important at the time.
The entire 1937 Chrysler line, Imperial included, was touted that it's engineering and design efforts had the goal of making Chrysler automobiles the safest on the highway. So what were some of these safety features? Included were a toughened chassis, all steel body, hydraulic brakes that had equalized pressure, safety glass windshield, elevated dashboard to prevent knee injuries, a defroster and a recessed instrument panel.
Chrysler Airflow
The introduction of Chrysler's Airflow automobiles got off to a rather slow start. During the first model year, 1934, total sales for both Chrysler and Imperial Airflows totaled just over 11,000 vehicles. This was not a good figure and unfortunately sales for the Airflows declined in each of the next three years.
What exactly caused the Airflow to fail? Most feel that the stalled introductory during the 1934 model year didn't help and others say that the concept itself was too much too soon. Perhaps introduced before it's time. You also have to consider the fact that the Airflow came out during the middle of the Great Depression which certainly didn't help. Consider one other theory. Luxury car buyers at the time had this belief that a long hood with a large hood ornament (think Packard and Duesenberg) meant prestige. Others thought that plus spare tires mounted on the side of the vehicle meant prestige. If either of these can be a a barometer of luxury car prestige, the Imperial Airflow had neither.
Even though Chrysler's Airflow didn't prove to be a mid 1930's success, the Airflow did influence other auto designs which you may be familiar with. The 1936 Lincoln Zephyr is one example.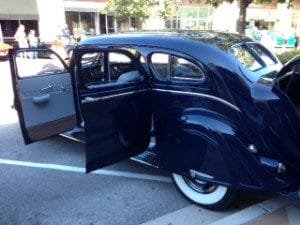 1937 Imperial Specifications
Engine for the 1937 C-14 Imperial was a 273 cubic inch L-head straight eight delivering a rated 110 HP. The engine was considered state of the art in it's design. Included were aluminum alloy pistons and forged manganese steel connecting rods. The engine and transmission were also mounted on rubber in what Chrysler called it's patented "Floating Power".
Transmission was a three speed manual Synchromesh.
Brakes were four wheel hydraulic with cast iron drums.
Suspension was built for a very smooth ride. The 37 Imperial featured double acting Aero shocks all around the car. Also independent coil springs on the car's front and steel leaf springs on the rear.
The 37 Imperial's wheelbase was 121.0 inches and the car weighed a heavy 3,850 lbs.
You may enjoy the Auto Museum Online articles on the links below...
The 1955 Imperial Specs and Photos
The Rare 1941 Cadillac Convertible
Where to Find Serial Numbers on Classic and Vintage Cars
The 1937 Imperial Collector Car
All 1930's Imperials are popular collector cars. Relatively speaking, not a great number were built during these years and the number of survivors is small.
Condition, model, degree of restoration are all factors on current values. Convertibles usually are valued highest. One sale of a 37 Imperial Coupe Convertible garnered about $150,000. As of this writing e also see a 1937 Imperial Airflow, fully restored, priced at $45,000.
References for this article include the Imperial Car Club...Standard Catalog of Chrysler, 1914 -2000 by James T. Lenzke (Editor) and Ron Kowalke (Editor)...The Birth of Chrysler Corporation and It's Engineering Legacy, by Carl Breer.
(Article and photos copyright Auto Museum Online)