Featured in this article is an automobile you don't see too often these days...a 1937 Cadillac Limousine. The automobile has a 346 cubic inch V-8 with a three speed manual gearbox, suicide doors and can carry seven passengers.
Cadillac's Series 75

Introduced in 1937, Cadillac's new Series 75 included eleven Fleetwood body styles ranging from coupes and convertibles to a seven-passenger touring sedan / limousine. This new Series 75 unveiled by Cadillac caught on fast with luxury car buyers and gave Packard some stiff competition. By 1941 the Fleetwood Series 75 was Cadillac's flagship automobile.
A new, broader, die-cast " egg crate " grille was fitted. This type styling  would become a standard feature on Cadillac models for many years. Two sets of three small horizontal chrome trim pieces placed in the catwalk area between the fenders and the grille added emphasis to the Cadillac's wider stance. In addition to this, there were newly styled, large bullet-shaped front fenders that provided a sophisticated yet aggressive look. The Cadillac Series 75 were considered solid, well built automobiles.
The Story of Fleetwood Body
Fleetwood Metal Body Company was founded in 1909 in Fleetwood, Pennsylvania. The best description of the work done and the popularity of the Fleetwood Metal Body Company was printed in a February 1920 issue of the Reading (PA) Eagle. See the excerpt below...
"The Fleetwood Metal Body Company, makers of strictly high grade custom automobile bodies, is justly the pride of the Borough of Fleetwood. It furnishes employment to 375 people. The pres­ent force is inadequate to the demand of the output of the plant. In the past five months orders to a total of more than $2 million have been re­fused by the company owing to the fact the out­put of the plant is already contracted for well into '21. Almost daily letters are received from firms, corporations and individuals offering a creditable bonus for the acceptance of an order of high grade automobile bodies.
"The chassis of a Packard, Pierce Arrow, Cadillac or some other superb make is sent to them accompanied by complete instructions as to the kind of body wanted. In many cases, no de­tails are omitted. The selection of color and the material to be used in the luxurious upholstery of the interior being chosen with the greatest of care. The great. proportion of the cars are built for those whose abundant means justify the grati­fying of any whim and the special touch of ex­clusiveness has always been the aim of the Fleet­wood Company as time and again it has won unstinted praise and approval. Andrew Carnegie, the Vanderbilts, the Rockefellers have all been users of Fleetwood cars while Mary Pickford, Theda Bara, Harold Lockwood, Andrew Pierson and other shining lights of motion picturedom have been loud in their praise of the lines and the finish of the cars built especially for them. Their product has been sent to every part of the world including California, South America and Europe".
Fleetwood was acquired by Fisher Body in 1925 and relocated to Detroit, Michigan. Fleetwood was made a part of General Motors in 1931 and eventually became a Cadillac model itself. The Fleetwood name continued for many decades, often referring to limited and low-production styles.
1937 Cadillac Series 75 Limousine Specifications
The 1937 Cadillac Series 75 Limousine had a  346 cubic inch Monobloc Flathead V-8 engine that delivered 135 horsepower. As an historical side note, Cadillac was the first automaker to mass produce the V-8 engine. At this time Cadillac was also producing V-12 and V-16 engines.
Transmission was a three speed manual.
Wheelbase was 156.0 inches, length 240.0 inches, width 77.8 inches and height 69.4 inches.
Cadillac production for 1937 was 14,150 vehicles out of which 4,230 were Series 75 models.
You may also enjoy the Auto Museum Online articles on the links below...
The Classic 1953 Cadillac Eldorado Convertible
Vintage and Classic Car Serial Numbers
1958 Cadillac Coupe De Ville / A 50's Classic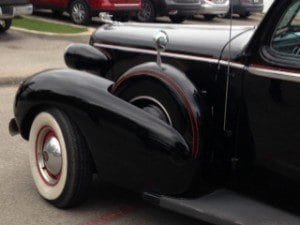 Cadillac Limousine enthusiasts will want to find the book...Cadillac Fleetwood 75 Series Limousines 37-87 by authors Thomas A. McPherson and Walter M.P. McCall. Another good book is..Cadillac: 100 Years of Innovation by Angelo Van Bogart.
Cadillac Series 75 Collector Automobiles
As mentioned above, the Cadillac Series 75 models were popular and well built automobiles. They remain popular collector cars and the 1937 Series 75 Limousine featured in this article is rare.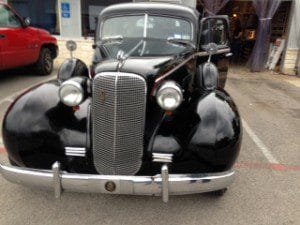 If you locate one of these Cadillac limousine models for sale, and they are indeed very rare, the asking price will vary greatly due to originality, condition and degree of restoration if any. Originality would obviously be one of the rarest attributes for an automobile from 1937.
As of this writing we see one Series 75 limousine with an automatic transmission and Chevy 350 engine and an asking price of $17,500. Restored and highly original 1937 Fleetwood models might have asking prices in the $30,000 range to the six figures range depending on the body style. One example would be a totally restored 1937 Cadillac Fleetwood 7539 Town Sedan with an asking price of $70,000.
(Article and photos copyright 2015 Auto Museum Online)