The beautiful vintage car shown in this article is a 1929 Nash Advanced Six, Rumbleseat Coupe.. This model year was going well for Nash Motors, the company producing 116,000 vehicles that year. The 1929 Nash automobile had some new features for 1929. These included a dual ignition system and a six cylinder engine with two spark plugs per cylinder. This type of engine was used by Nash until 1940.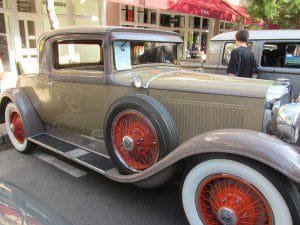 Nash Motor Company
In 1929 Nash offered some twenty-three different models ranging in price from about $1,000 to $1,800. During 1929 the highest priced Nash was a seven passenger sedan and limousine model. Prior to that the top automobile from Nash was an Ambassador. It was a four door, five passenger sedan which could seat five. The Ambassador model actually stayed in production from Nash until 1957.
Nash Motors was founded in 1916 by Charles W. Nash who had been president of General Motors. Nash took over the Thomas B. Jeffrey Company which had been struggling to survive. The company's name was changed to Nash Motors and it was able to do quite well as a niche automotive producer.
Charles Nash was credited with two important things. He was able to keep his company competitive during the Roaring Twenties when competition was growing rapidly and he also was able to keep the company going through the Great Depression years of the 1930′s. This was no easy taskt since many companies went out of business in the 1930′s.
In 1937, Nash was then able to merge his company with the Kelvinator Corporation. By the time of the merger Charles Nash was 73 years of age and the merger made a lot sense. Nash became chairman of Nash-Kelvinator Corporation and kept that title until he died in 1948.
When you talk about the Nash Motor Company you also have to mention Lafayette Motors. After beginning business in Indianapolis Indiana the company relocated to Milwaukee Wisconsin. Of special note is that the Nash Motor Company was the main shareholder in Lafayette Motors.
The Lafayette automobiles were luxury high priced cars but sales lagged. Nash took over the company in 1924 and converted it's plants to build Ajax automobiles. Ajax had mediocre sales and was folded into the Nash brand a few years later. Nash also went on to reintroduce the Lafayette car brand in 1934.
Nash also expanded during the 1920's with it's acquisition of the Mitchell Motor Car Company.
Two additional AutoMuseumOnline articles you'll enjoy are listed on the links below.
1929 Nash Advanced Six Coupe
The Nash 400 models, of which this vehicle is one of them, came out in 1928.
The 1929 Nash Adanced Six came with a two coil win-ignition 278.4 cubic inch displacement six cylinder engine. The engine had aluminum pistons. Something new for 1929. The eight cylinder engines were introduced by Nash for the 1930 model year. It was said that the car still ran very well even if one side of the ignition system failed. The engine had four point engine mounts and each cylinder had two spark plugs.

The 1929 Nash suspension was semi-elliptic leaf springs both front and rear. The cars weight was rated at 3,675 lbs.  Wheelbase was 130.0 inches. The car's length is 16.5 feet bumper to bumper.
The transmission was a three speed manual synchronized transmission. The transmission utilized a Borg & Beck clutch mechanism.
The 1929 Nash brakes were mechanical, with internal expanding shoes on the front and external contacting bands on the rear.
The wheels were wire five lug made by Budd.
The 1929 Nash sold new for about $1,600  Nash built 116,622 vehicles in 1929. As a comparison, the Ford Motor Company built 1.5 million vehicles that year and Chevrolet turned out 1.3 million.
This 1929 Nash Coupe has been excellently restored and the car's rumble seat adds to it's sportiness. This of course is a rare automobile and a great vintage collector's car. Sale prices for a car like this could be in the range of $12,000 to $20,000 plus depending on the degree of restoration.
To learn more about the Nash Motor Company I would recommend the book Storied Independent Automakers: Nash, Hudson and American Motors by author Charles K. Hyde.
(Article and photos copyright 2013 AutoMuseumOnline)